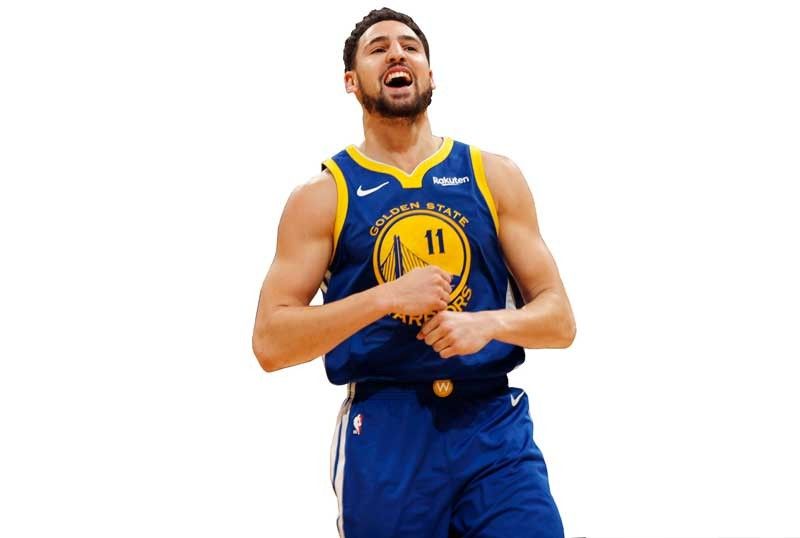 Warriors massacre Lebronless Lakers
(Associated Press) - January 23, 2019 - 12:00am
Klay hits record first 10 3s; Embiid pins Harden's layup to the glass
LOS ANGELES – Klay Thompson set an NBA record by making his first 10 attempts from 3-point range, scoring 44 points as the Golden State Warriors beat the short-handed Los Angeles Lakers 130-111 on Monday night to match a season high with their eighth consecutive victory.
Thompson finished 10 of 11 from beyond the arc and the two-time defending champions won their seventh straight road game. The star guard had 23 points in the third quarter, connecting on seven 3s as the Warriors stretched their lead to 36 points. He finally missed from deep late in the period.
Kevin Durant added 20 points and Stephen Curry had 11 points and 12 assists for Golden State.
The Lakers were without their primary playmakers in LeBron James, Lonzo Ball and Rajon Rondo. They fell to 5-9 without James, whose left groin strain has forced him out for the longest stretch of his 16-year career.
In Philadelphia, Joel Embiid had 32 points and 14 rebounds to lead Philadelphia past fellow MVP contender James Harden and Houston 121-93.
Harden, selected Western Conference player of the week earlier in the day, finished with 37 points – giving him 20 straight games with at least 30.
Embiid's 24 first-half points helped Philadelphia to a 65-50 halftime lead, and he punctuated an entertaining opening 24 minutes by pinning Harden's layup attempt with 7.5 seconds left for a crowd-pleasing block. The duo had to be separated with 38.7 seconds left in the half, with each being issued a technical, after Harden took exception to Embiid's foul on him.
The 76ers broke the game open in a dominant third quarter as they outscored Houston 29-13 to take a 94-63 advantage into the fourth.
In Boston, Kyrie Irving had 26 points and 10 assists, Al Horford added 16 points and 12 rebounds and Boston beat Miami 107-99 for its fourth straight victory.
Irving has had 20 or more points and 10 or more assists in 11 games, the first Celtics player to accomplish the feat since Hall of Famer Larry Bird, who also had 11 in 1986-87.
Jayson Tatum added 19 points and Marcus Morris 17 for the Celtics, who won their ninth straight at home and improved to 18-5 at TD Garden.
In Milwaukee, Giannis Antetokounmpo had 31 points and 15 rebounds, and Milwaukee beat Dallas 1116-106.
Eric Bledsoe had 21 points and Malcolm Brogdon scored 19 for the Bucks, who have won five straight and 12 of their last 14 to improve to 34-12 overall.
In Cleveland, Zach LaVine scored 25 points and Chicago broke a 10-game losing streak, beating Cleveland in a meeting of teams that began the day with the worst records in the NBA.
Other NBA results:
Oklahoma city 127, New York 109; Washington 101, Detroit 87; ; Orlando 122, Atlanta 103; Brooklyn 123, Sacramento 94; New Orleans 105, Memphis 85; Portland 109, Utah 104.