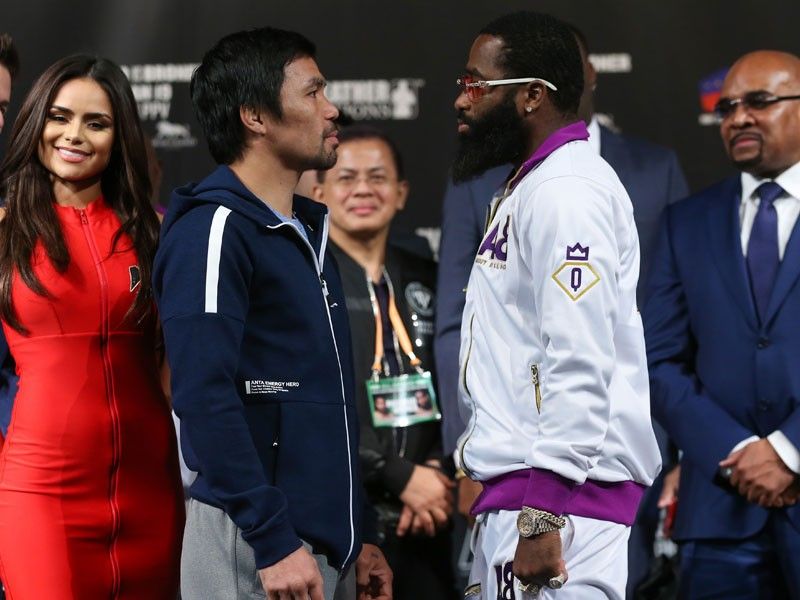 Manny Pacquiao and Adrien Broner face off at the final press conference for their fight.
Wendell Rupert Alinea/MP Promotions
Pacquiao continues to stay busy as weigh-in nears
LAS VEGAS – Again defying his training team, Manny Pacquiao turned what was supposed be his last rest days here into an extra couple of busy workouts as his showdown with American Adrien Broner looms.
Told to just sit things out until fight night on Saturday (Sunday Manila time), Pacquiao spent the last two days sweating it out at either the UNLV track oval or the Bones Adams Boxing Gym, both of which are just few minutes away from the MGM Grand where he is billeted.
No one can stop the 40-year-old Pacquiao from working out amid concerns by his team that the Filipino icon might burn himself out.
"At that age, sometimes you get lazy. But I'm addicted to exercise," he told reporters the other day.
Pacquiao can't wait to put his WBA welterweight title against Broner, a fighter 11 years his junior and whose cocky personality almost always precedes his boxing capability.
The champion and his challenger are set to hit the scales in the official weigh-in Friday afternoon at the MGM Grand Garden Arena (Saturday morning in Manila), where their 12-round clash will also take place.
Pacquiao, as usual, is expected to breeze past the scales. He's been eating like a king the past weeks, gorging on a variety of protein-rich options at his posh Los Angeles residence. In one instance, he enjoyed a thick New York strip steak, cooked well done, for dinner.
The welterweight limit is set at 147 pounds, and it won't be a surprise if Pacquiao will weigh in less than that.
"Baka nga 145 (pounds) pa," Pacquiao's trainer Buboy Fernandez said.
On the other hand, it remains to be seen if Broner will overcome the scales. He had missed making weight in the past, but claimed it was intentional and that this time, he's in the best shape ever thanks to a solid training camp.
On Thursday, Pacquiao hit the UNLV track for an afternoon run. Eyewitness accounts say Pacquiao was in his usual carefree self, even running backwards at one point. A Facebook live feed shows him approaching a group of construction workers for a photo op.
Broner, for his part, spent the afternoon doing rounds at the radio booths inside the media center.
"I'm gonna beat him (Pacquiao) up and ask him for a drink later," Broner told a radio host. "I will turn Vegas into a block party on Saturday."
On Saturday, Pacquiao will mark his return to the world's gambling capital in more than two years, motivated by his latest knockout win — against Lucas Matthysse last year — and an intention to prove that at 40, he can still do great things.

Broner, meanwhile, is looking for that career-defining win that would set him up for larger paydays to complement his flashy, trash-talking persona.
In less than two days, we will know who has the bigger motivation.