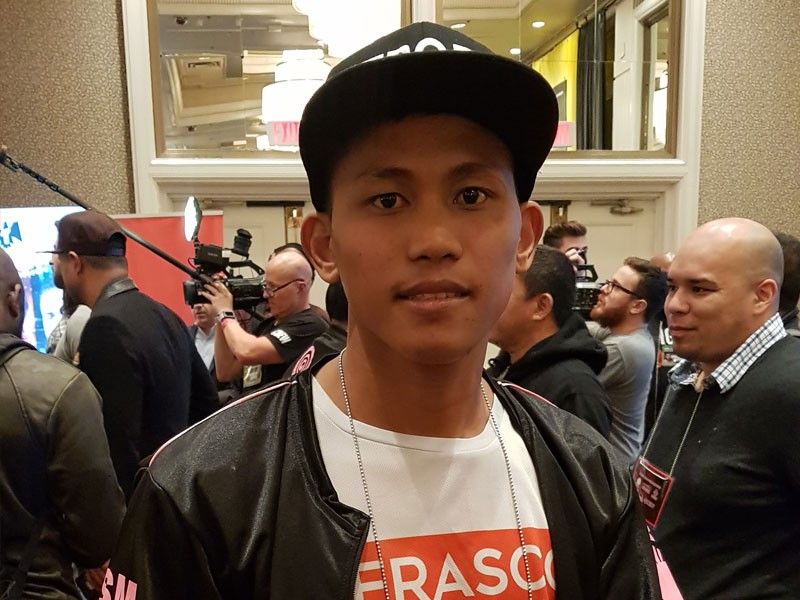 Jhack Tepora will defend his WBA interim featherweight title against Hugo Ruiz in the undercard of the Manny Pacquiao-Adrien Broner clash.
Philstar.com/Dino Maragay
Tepora still overweight ahead of title defense in Pacquiao-Broner undercard
LAS VEGAS – WBA interim featherweight champion and Filipino Jhack Tepora needs to shed six pounds in 24 hours to be able to meet the limit of 126 pounds for his title defense in the undercard of the Manny Pacquiao-Adrien Broner clash.
But the undefeated Tepora (22-0, with 17 KOs), who will stake his title against Mexico's Hugo Ruiz, said it can still be done.
"Kaya. Papawis lang," he told Filipino media men at Thursday's press conference for undercard fighters (Friday Manila time).
Tepora, looking pale and a bit frail, said Thursday that he is still at 132 pounds.
The official weigh-in for the card will be held Friday afternoon here (early Saturday in Manila), and Tepora should check in at 126 pounds or lighter.
Otherwise, the 26-year-old fighter will be stripped of the belt, which will now be on the line only for Ruiz if he wins.
Should an overweight Tepora manage to notch the victory, the title will be declared vacant.
But the Cebu City-based fighter isn't pushing the panic button.
"Parang nasanay na yung katawan ko sir, eh," said Tepora, who will skip meals from now until tomorrow, with water as his only intake.
Tepora won the title with an impressive ninth round TKO win over Edivaldo Ortega in the undercard of Pacquiao's fight with Lucas Matthysse last year in Kuala Lumpur, Malaysia,
The other day, he amused the crowd at the grand arrival ceremony at the lobby of the MGM Grand here.
Asked where he gets his punching power, Tepora, instead of turning to his interpreter, answered directly with a one-liner in English.
"Only God knows," he said, drawing laughter from the audience.
How he will get rid of six pounds in 24 hours, only God knows too.