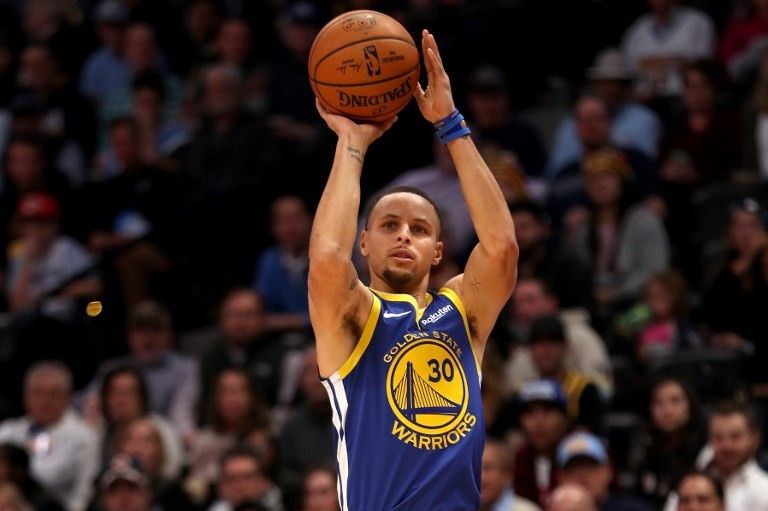 Stephen Curry #30 of the Golden State Warriors puts up a shot against the Denver Nuggets in the first quarter at the Pepsi Center on Jan. 15, 2019 (Jan. 16, 2019 Manila Time) in Denver, Colorado.
Matthew Stockman / Getty Images North America / AFP
Smith: Steph Curry is the GOAT shooter
MANILA, Philippines — Is Steph Curry the greatest shooter of all-time?
For American sports journalist Stephen A. Smith, there is no doubt that he is.
After Golden State's rousing win against the Denver Nuggets on the road, Smith took to his radio show "The Stephen A. Smith Show" and made the bold statement.
"Steph Curry is the greatest shooter in the history of basketball" He said -- and the sports host's claim didn't come without hard-hitting data.
Curry had recently passed Jason Terry to move up to the third spot in the NBA's all-time list in career three pointers.
As if if that wasn't impressive enough, Smith noted that it only took Curry less than half of the games Terry played to overtake the Milwaukee player. The 41-year-old played 1410 games to reach his former record of 2,282 and Curry only needed 655 to make more.
Now, Curry only trails behind Hall of Famers Reggie Miller and Ray Allen to top the list.
Smith then references an ESPN article highlighting the difference between regular threes and deep threes in the NBA.
Regular threes are defined as three-pointers shot from around 20-23 ft. away while deep threes are rainbow shots taken from as far as 30-35 ft. from the basket.
On average, Smith says, the NBA makes about 35 percent of their threes overall. For deep threes, the NBA averages 22 percent.
"Steph Curry shoots 54% of threes between 30-35 ft." Smith says, looking like he didn't almost believe the numbers.
"That means more than one out of every two shots he takes from that distance, he makes... Do you understand how great that is?" He says.
A number of NBA fans may beg to differ but Smith has made it clear that he thinks Steph Curry is truly the GOAT in shooting.
Do you agree? Is the three-time champion really the greatest shooter of all time?
Check out Smith's full segment on Curry below: