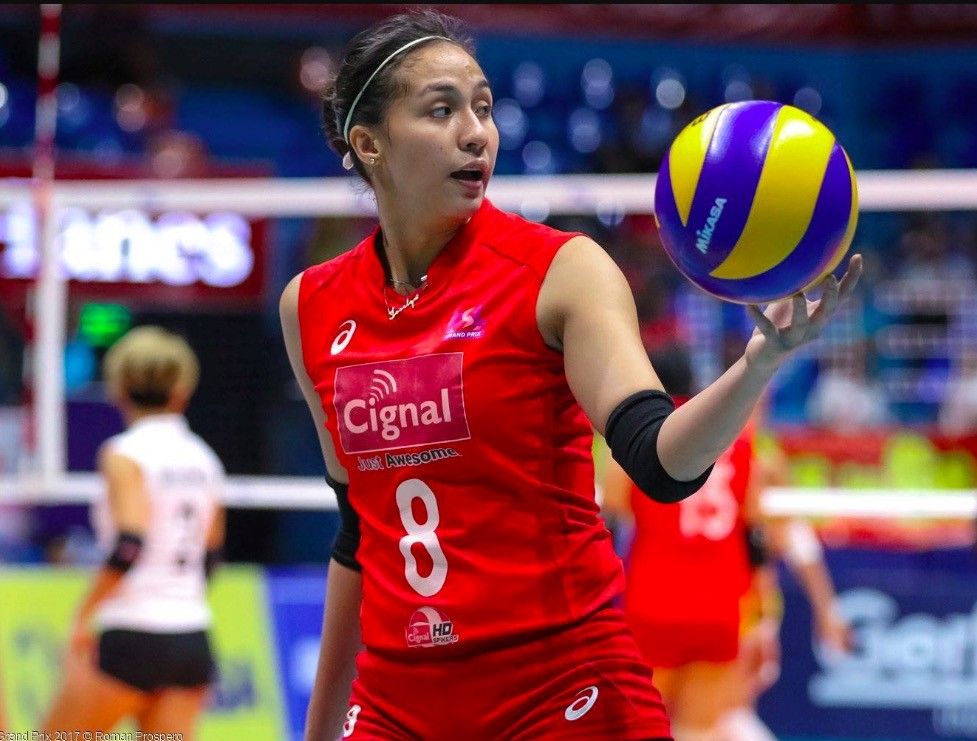 Cignal's Jovelyn Gonzaga during the team's match against F2 Logistics—the night where she injured her knee.
PSL File Photo
Cignal's Jovelyn Gonzaga still sidelined with knee injury
MANILA, Philippines – Jovelyn Gonzaga will remain in the sidelines when Cignal campaigns in the Philippine Superliga Grand Prix next month.
HD Spikers' head coach Edgar Barroga broke the news, saying that the hard-hitting former national team member has yet to fully recover from the anterior cruciate ligament (ACL) injury she suffered in the tailend of 2017.
Barroga said although Gonzaga is already doing some light training, they decided to sit her out of the import-flavored conference so she will at her best when the All-Filipino Conference rolls out in July.
"She already joined our training, but her workload is still very limited," Barroga said.
"With her talent and leadership, Jovelyn is a crucial part of our team. That's why we we're not rushing her recovery and we want to make sure that she's at 100 percent before we field her again."
With Gonzaga – and another attacker in Janine Marciano – out, the HD Spikers have no choice but to tap imports who can both play the wing positions.
So far, the HD Spikers already reached an agreement with Erica Wilson, who will be coming in with glowing credentials after being part of the United States' U23 team that saw action in the FIVB U23 World Championship in 2013.
She is set to arrive on Saturday.
Barroga said they have yet to find another import but it's very definite that they will tap either an open or opposite spiker.
"We want to help Rachel (Daquis) in the scoring department," said Barroga, referring to his team captain who carried bulk of the scoring load in Gonzaga's absence.
"We don't have problem with our middles because our local players like Shirley (Salamagos), Janine (Navarro) and our new recruit Ranya (Musa) can already do that. Our main concerns right now are the utility and open spikers positions."