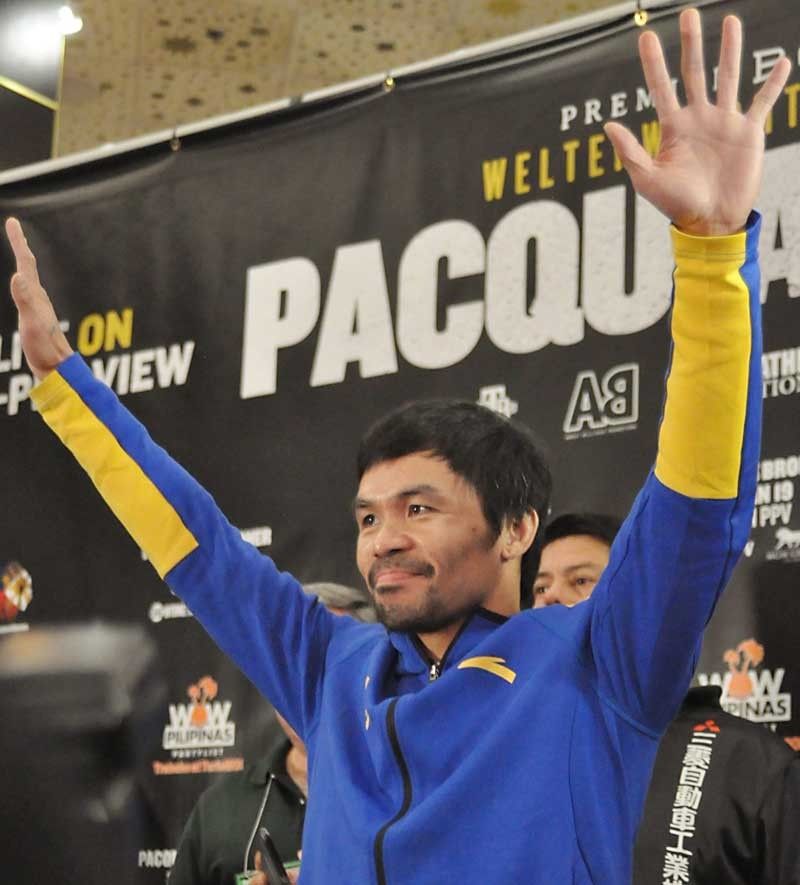 Manny Pacquiao waves to fans.
Abac Cordero
Manny Pacquiao gives foe 7-8 rating out of 10
Abac Cordero
(The Philippine Star) - January 17, 2019 - 12:00am
LAS VEGAS – Future Hall-of-Famer Manny Pacquiao wasn't too generous when he gave Adrien Broner a ranking of seven or eight out of 10.
"(In a scale of one to 10) he's number seven or eight," Pacquiao said Tuesday when asked where Broner stands.
"He's a former champion. He's a good boxer. And he's the kind of fighter you cannot underestimate," he said.
Broner doesn't care.
"I'm just glad that I'm the underdog," Broner told scribes who had gone here five days before Saturday's big event.
"I know a lot of people are here to see me lose. I hope I can turn Pacquiao fans to Broner fans," said Broner, who glittered like gold.
Literally.
Broner arrived in a white and purple outfit with heavy jewelry. At the back of his jacket were the words "About Billions."
He had diamond-studded Rolex watches on both wrists, a set of gold necklaces and gold rings as big as walnuts.
The 40-year-old Pacquiao, who is seeking his 40th knockout win, also met the press at the VIP Lounge of the MGM Grand.
Minutes earlier, he made a grand entrance at the hotel lobby, where fight fans waited two hours for his arrival.
The theme song of the 1976 film "Rocky" filled the air as Pacquiao, surrounded by his Filipino bodyguards, got up the stage.
He smiled like he always does, and raised his arms before his fans.
"I feel like this is my first fight in Vegas," said Pacquiao, taking a quick look down memory lane, to 2001 when he made his debut here.
The MGM had seen the best of Pacquiao, and on Saturday he's out to prove that at his age, he can still entertain.
And that age is just a number.
"If they (critics) think that I'm old, they're wrong. I spar with boxers who are 29 years old," he said.
Broner, from Cincinnati, is only 29. But he'd been there and done that, having won world titles at 130, 135, 140 and 147 lbs.
Pacquiao came in a blue track suit with yellow trim.
No diamonds.