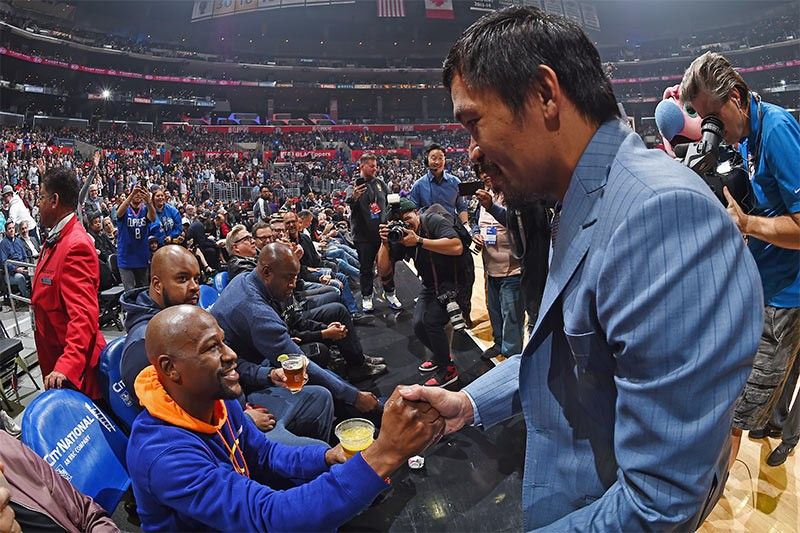 LOS ANGELES, CA - JANUARY 8 (JANUARY 9 MANILA TIME): Professional Boxers Floyd Mayweather and Manny Pacquiao greet each other during the game between the Charlotte Hornets and LA Clippers on January 8, 2019 (January 9, 2019 Manila Time) at STAPLES Center in Los Angeles, California.
ANDREW D. BERNSTEIN / NBAE / GETTY IMAGES / AFP
Mayweather to watch Pacquiao-Broner fight at ringside
LAS VEGAS – It is only logical for Floyd Mayweather to attend Manny Pacquiao's fight with Adrien Broner here Saturday (Sunday Manila time) if he wants to fan the flames of a rematch with the Filipino icon.
That's exactly what Mayweather will do.
Mayweather Promotions CEO Leonard Ellerbe confirmed that the undefeated former pound-for-pound king will be ringside to personally check out Pacquiao's clash with Broner.
"Yes, he's coming," Ellerbe told Philstar.com at the sidelines of Tuesday's grand arrival ceremony at the MGM Grand that officially opens the fight week.
If Pacquiao manages to get Broner out of the way, he will again make a bid to convince Mayweather to give him another shot after their megabuck duel in 2015.
In fact, a reliable source said there are already initial talks to hold the Mayweather-Pacquiao rematch sometime in July. The source revealed the information last week in Los Angeles, a day before Pacquiao broke camp and made the six-hour journey to Vegas.
Pacquiao and Mayweather have fueled rematch speculations late last year when they bumped into each other at a rave party in Tokyo, Japan. They again crossed paths at a recent Clippers game, wherein Pacquiao graced the NBA's Filipino Heritage Night.
Pacquiao said the meetings are all coincidences, and when told that Mayweather will watch his fight with Broner, he said he had no idea.
"[Again] It's just a coincidence," he told the media after making his grand arrival.
Mayweather outpointed Pacquiao in boxing's richest fight ever. It gave both fighters career-high paydays. Though they likely won't earn the same in a rematch, the purses will still be higher compared to what they'll get fighting someone else.
Freddie Roach, who has returned to Team Pacquiao as a training consultant, said Mayweather remains his number one priority for the Filipino icon.
Many view Pacquiao's newly established alliance with Mayweather adviser Al Haymon's Premier Boxing Champions as a springboard to a rematch with the American star.
Mayweather, for his part, is expected to keep the conversation alive by showing up at the MGM Grand Garden Arena on fight night.