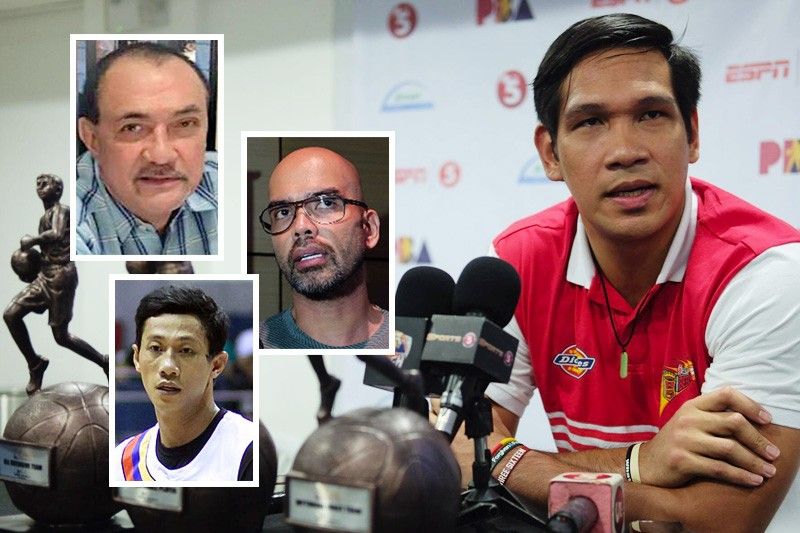 PBA greats Mon Fernandez, Benjie Paras and Danny Ildefonso are all praises for five-time MVP June Mar Fajardo.
Fernandez, Paras, Ildefonso laud Fajardo for historic PBA feat
MANILA, Philippines – What ghosts will June Mar Fajardo be chasing on his way to the Hall of Fame?
San Miguel's center was recently feted his fifth consecutive Most Valuable Player award. He broke a tie with former four-time winners Ramon Fernandez and Alvin Patrimonio.
Fernandez won his four MVP plums with four different teams and curiously – in two year intervals — Toyota (1982), Beer Hausen (1984), Tanduay (1986) and San Miguel Beer (1988).
Patrimonio, who played his entire career with Purefoods, came away with the award in 1991, 1993, 1994 and 1997.
Fajardo has made it five straight. Since his "coming out party" in 2013 during the 2013 FIBA Asia Championships, the 6'10" native of Compostela, Cebu has bagged the award every year while winning six PBA championships with the Beermen.
Philstar.com spoke with a pair of former PBA MVPs for their thoughts about Fajardo's incredible feat.
"He is really deserving of a fifth straight MVP award," glowed Fajardo's former SMB teammate Danny Ildefonso, who bagged back-to-back MVP awards from 2000-01. "At 6'10", he is really a hard worker. But what I like most about him is his humility and being God-fearing. I hope his success continues and of course, he is blessed with good health."
Added Benjie Paras, who as an undersized center for Shell, was named not only 1993 Rookie of the Year but also the MVP in the same season, "He deserves the award. He dominates the league and he is consistent with his performances every conference and every year. And for someone of his size, he's quick and almost unstoppable inside the paint. He also has a shot from the outside which helps make him almost unguardable. In spite of having good range, he has an excellent shot selection."
Now it leave to El Presidente, Ramon Fernandez, a fellow Cebuano, to have the last say. "My congratulations to June Mar. After he won his first MVP award, I said that barring injuries, he will easily win six to eight MVPs especially now that no one else comes close to his daily performances."