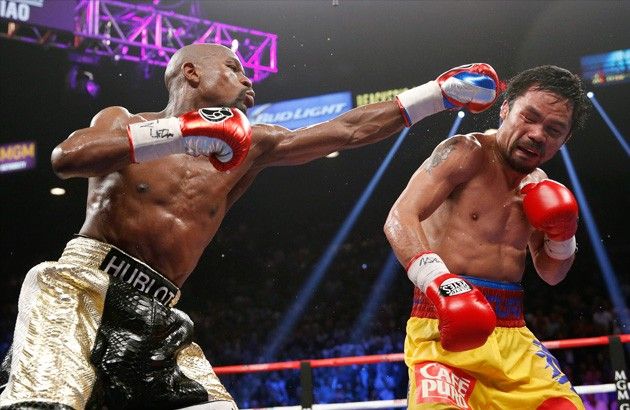 Floyd Mayweather and Manny Pacquiao figured in boxing's richest fight ever. Will they do it again?
AP
Source: Pacquiao vs Mayweather rematch eyed for July
LOS ANGELES – Negotiations for the rematch between Manny Pacquiao and Floyd Mayweather Jr. have started with the fight being planned for July, according to a source with knowledge of the dealings.
The source, who is close to both Pacquiao and Mayweather's camps, said that while Las Vegas remains the favorite to host the bout, London in the United Kingdom and Russia are also being considered as venues.
Pacquiao will make the first defense of his WBA welterweight title against Adrien Broner next Saturday (Sunday Manila time), a bout that could lead to another Mayweather showdown if the Filipino icon wins.
The source, who requested anonymity because he is not authorized to speak on the matter, added that the camps of Mayweather and Pacquiao have been in constant communication with each other. But nothing is final.
Mayweather outpointed Pacquiao in their 2015 showdown, which went down as the richest fight in boxing history. With the fight's commercial success, a rematch is a logical option as neither Pacquiao nor Mayweather can earn more against other opponents even at this time.
Pacquiao has been very vocal about wanting another crack at Mayweather, whose recent stunts likewise indicate he's open to a rematch. The two boxers crossed paths at a rave party in Japan late last year and exchanged taunts, and again met at a recent NBA game.
Mayweather hasn't fought professionally since stopping UFC star Conor McGregor in 2017. But the undefeated boxer returned to box Japanese kickboxer Tenshin Nasukawa in an exhibition match on New Year's Eve in Saitama, Japan.
Mayweather stopped Nasukawa in the first round, knocking the local fighter down thrice — a farce of a bout which reportedly paid Mayweather a handsome $9 million.
Freddie Roach, who has returned to Team Pacquiao as a training consultant, is optimistic that a Mayweather-Pacquiao rematch could happen.
"There's a reason why Mayweather is on TV the other night and showing the world that he's still there. I think that's part of the reason (Pacquiao rematch)," Roach told Filipino scribes Saturday at the Wild Card Gym here (Sunday Manila time).
"I hope it (rematch) happens. That's the one fight I'd like to have back because I know we can do better," he added.
Pacquiao has to get past Broner first.