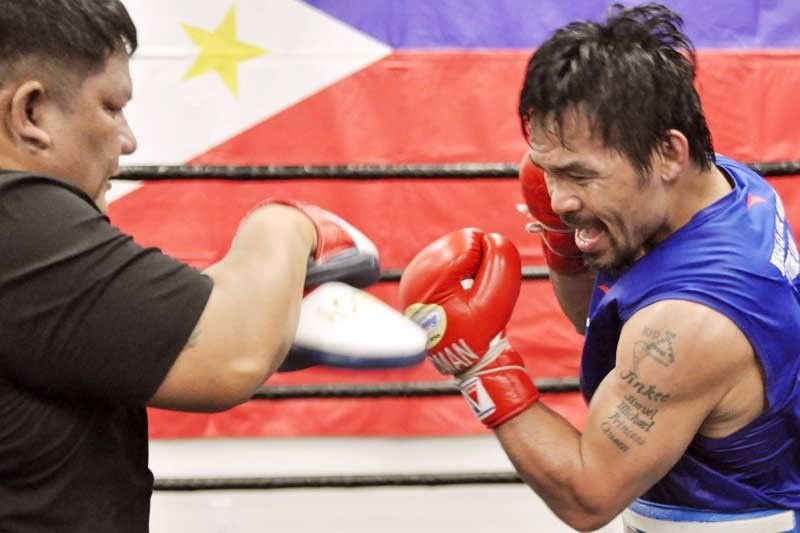 Pacquiao during his gym session at Wild Card.
Abac Cordero
Pacquiao expecting well-conditioned Broner
LOS ANGELES – Manny Pacquiao said he is anticipating Adrien Broner to enter the ring in tip-top shape next week for their title showdown at the MGM Grand in Las Vegas.
Pacquiao and his team did not have to look far in their research for Broner, whose training videos can easily be viewed on his social media accounts.
Broner, for instance, had posted on his Instagram a video of him doing circuit training, looking fit and ready.
Pacquiao gave Broner's preparation a thumbs up.
"Ine-expect ko naman sa kanya na maganda ang conditioning. The way he trained sa video na nakita namin, okay naman yung nagawa niya," the Filipino icon told Filipino media men after another day of training at the Wild Card Gym here Friday (Saturday Manila time).
Broner managed to get in shape despite legal problems in the weeks leading to the fight. His promoter, Mayweather Promotions CEO Leonard Ellerbe, claimed the other day that fans will be in for a surprise when they see the 29-year-old boxer's conditioning.
Pacquiao, for his part, has already reached his peak and is slowing down in training. He skipped Friday morning's run on the advice of conditioning coach Justin Fortune, but is set to spar another four or six rounds for the last time Saturday (Sunday Manila time).
The fighting senator stakes his WBA welterweight championship against Broner, who earlier vowed to dethrone Pacquiao and send him into retirement.
Asked what type of fight he expects a little over a week from now, Pacquiao blurted out two words that gave his interviewers a good laugh.
"Baka asaran," he said.