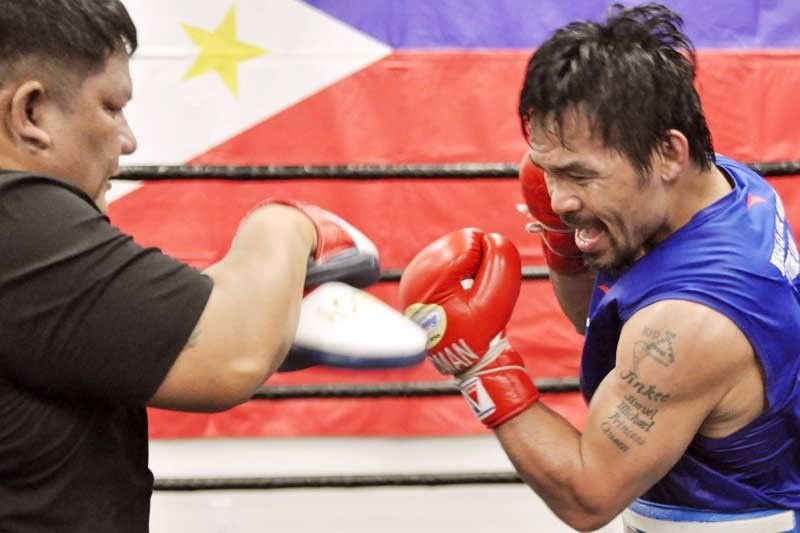 Pacquiao during his gym session at Wild Card.
Abac Cordero
Manny Pacquiao wows them all in and out of the ring
Abac Cordero
(The Philippine Star) - January 12, 2019 - 12:00am
HOLLYWOOD – Manny Pacquiao dazzled the very few who found access to the Wild Card Gym to watch him train on a cold Thursday afternoon.
Boxing's only eight-division champion, who's now 40, sparred six rounds and then worked six more, heavy ones, with the mitts.
Buboy Fernandez' hands shook from all the pounding.
"Whew!" was Buboy's sigh of relief.
Pacquiao shadow-boxed a few more rounds, punching the air and showing off his incredible hand speed.
At one point, he rushed to one corner, climbed the ring post then raised his arms like he just won a title fight.
"At 40!" he blurted.
Pacquiao was gearing up for his Jan. 19 title defense against American Adrien Broner at the MGM Grand.
He was rehearsing victory.
But it doesn't mean Pacquiao, perhaps the oldest current world champion in boxing, is taking Broner lightly.
"I'm not taking him lightly. That's why I focus on my training," Pacquiao said.
Earlier in the morning, in 10-degree weather, he ran along Beverly Boulevard, towing a dozen companions.
"I just want to make sure I'm 100 percent," he added.
As the gym session ended, he took off his shirt, soaked in sweat, and posed like Bruce Lee.
Behind him, a Philippine flag covered the entire wall.
Pacquiao left the gym in his black convertible, a two-seater Mercedes, its loud speakers playing a Barry Manilow song, "Somewhere Down the Road."
Fans almost crossed his path, and Pacquiao had to stop to sign some autographs. It took him another five minutes.
In his Larchmont Park mansion, the Filipino senator welcomed dozens and dozens of guests, mostly friends based in L.A.
Instead of resting, he was entertaining.
Pacquiao grabbed his wooden guitar and played a song and then another, mostly in Filipino. Others sang along.
Before he knew it, his guests had gathered around him, like he was holding a mini-concert.
"Wala bang maglalagay ng barya? (Would anyone toss in some coins?)" he said.
Laughter filled the house.