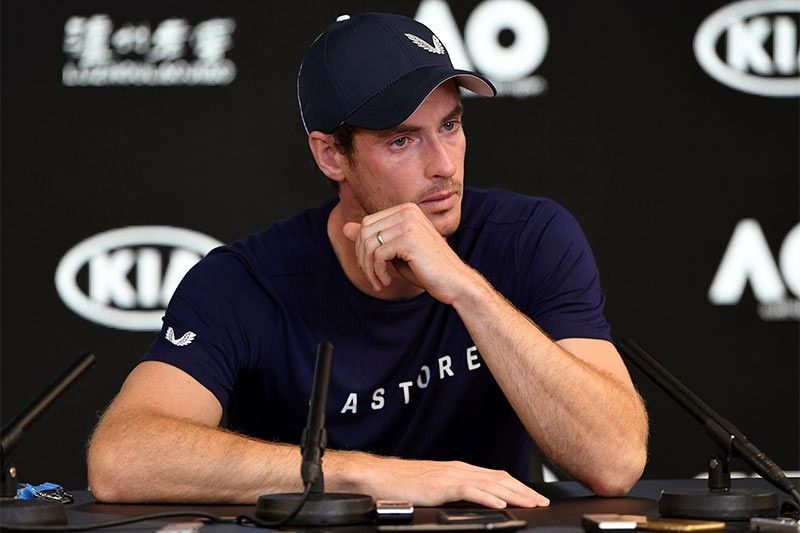 Andy Murray of Great Britain breaks down during a press conference in Melbourne on January 11, 2019, ahead of the Australian Open tennis tournament. Injury-plagued former world number one Murray on January 11, 2019 said he is set to retire this year and hopes to make it till Wimbledon, but conceded the Australian Open could be his last event.
William WEST / AFP
Tennis world reacts to Andy Murray's retirement
MANILA, Philippines — Andy Murray's tennis career is nearing an end, and the tennis world is devastated.
After struggling against Novak Djokovic in a practice match, the British athlete announced in a tearful press conference that this year's Australian Open may be the last tournament of his career.
Murray has been struggling since suffering from a hip injury during Wimbedon back in 2017 and despite undergoing surgery in 2018, the 31-year-old just never fully recovered.
The news shocked fellow tennis players and fans around the world with some of the biggest names in the sport tweeting messages of support for Murray.
Retired US tennis player Andy Roddick called Murray a legend, wishing him a strong and healthy finish.
If this is true, I tip my cap to @andy_murray ! Absolute legend. Short list of best tacticians in history. Unreal results in a brutal era ...... Nothing but respect here. I hope he can finish strong and healthy https://t.co/FZbwmvRC2r

— andyroddick (@andyroddick) January 11, 2019
Meanwhile, ATP Rank 5 Juan Martin del Potro encouraged the three-time Grand Slam winner to fight and hoped for Murray to be able to retire in his own terms.
Andy, just watched your conference. Please don't stop trying. Keep fighting. I can imagine your pain and sadness. I hope you can overcome this. You deserve to retire on your own terms, whenever that happens. We love you @andy_murray and we want to see you happy and doing well. ????

— Juan M. del Potro (@delpotrojuan) January 11, 2019
Women's tennis legend Billie Jean King also tweeted a message of support for Murray, who was also known for his fight for women's rights in sports.
.@andy_murray You are a champion on and off the court. So sorry you cannot retire on your own terms, but remember to look to the future. Your greatest impact on the world may be yet to come. Your voice for equality will inspire future generations. Much love to you & your family. https://t.co/AQUOP3LGec

— Billie Jean King (@BillieJeanKing) January 11, 2019
Murray wanted to retire after Wimbledon but is unsure if his body could hold out until then.
He says he cannot even wear socks or shoes without feeling any pain from his injury.
The Australian Open begins on January 14 and will end on January 27.