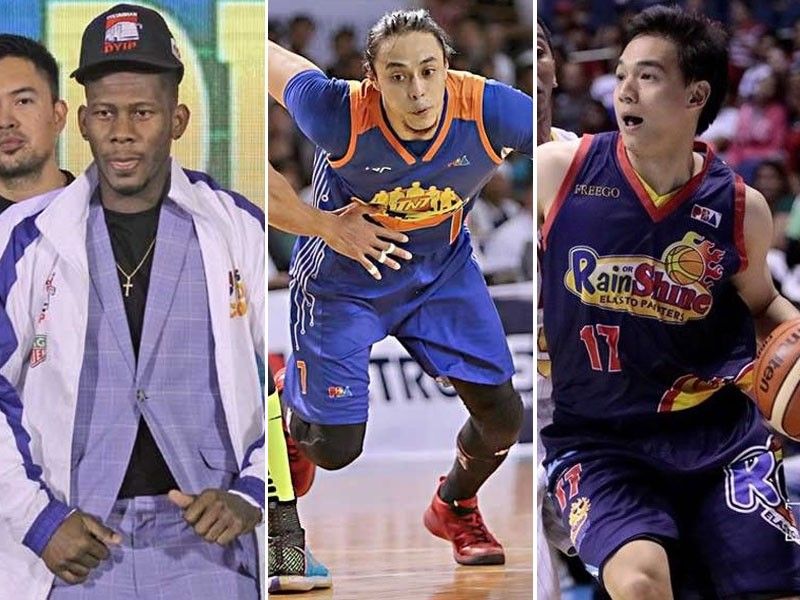 CJ Perez, Terrence Romeo and Chris Tiu
File photos
Player movements, rookie signings, exits mark PBA offseason
MANILA, Philippines - The PBA returns with a brand new season this Sunday, and what better way to anticipate the opener than by looking back at a frantic but exciting offseason.
From unexpected trades to new faces, the league had fans at the edge of their seats with some off-court movements.
Game-changing moves
Eager to revamp and strengthen their lineups, squads worked toward strategic deals and moves long before the offseason began.
Here are some of the draft and trade highlights that may tip the scales this season:
Terrence Romeo moves to SMB after TNT fallout
First pick CJ Perez revamps cellar-dweller Columbian Dyip's lineup
Robert Bolick to play alongside Stanley Pringle at NorthPort
NLEX acquires JP Erram after three-team trade with Blackwater and TNT
Blackwater increases their depth with the addition of Paul Desiderio, Abu Tratter and Gelo Alolino
Ronald Tubid returns to SMB
Letran standout JP Calvo teams up with collegiate rival Perez in Columbian Dyip
While most rookies have already signed contracts with their respective teams, Blackwater has been struggling to get a hold of second-overall pick Bobby Ray Parks Jr. Even before applying for the rookie draft, the former NU standout already announced that he plans to honor his contract with Alab Pilipinas until the end of the Asian Basketball League season this year.
If that is the case, Parks will be unable to suit up for the Elite throughout the all-Filipino conference. Blackwater has since approached the PBA commissioner about the issue to ask for a review of the situation.
Bittersweet endings
The offseason came with a lot of surprises, but one of the most unexpected was "Gingineer" Jett Manuel's early exit from the PBA.
The former Fighting Maroon didn't renew his contract with Barangay Ginebra after only a single season with the squad, where he barely had any playing time. Manuel cited plans to further his engineering career and family matters as reasons for his early curtain call.
Despite his forgetful stint with the 2016 Commissioner's Cup champions, Ginebra head coach Tim Cone isn't closing the doors on the 25-year-old cager, saying he would gladly welcome him back to the squad if Manuel wanted to.
Meanwhile, Rain or Shine's Chris Tiu also made his retirement official on Tuesday. Albeit an expected move, fans of the Gilas pioneer were sad to see him go after a remarkable career with the Elasto Painters.
The 33-year-old took to Twitter Tuesday to announce his exit, saying he was ready to move on from basketball while also expressing gratitude to everyone who supported him in his career.
My heartfelt gratitude to every person who has been part of my basketball journey!! Most especially to our Lord who makes all things possible ???? It's now time to move on. My heart is full. #17 signing off... pic.twitter.com/BeuGJKObXz

— Chris Tiu (@chris_tiu) January 8, 2019
RoS will surely miss his services this season.
With all these changes welcoming the new PBA season, fans can count on one thing: PBA Season 44 will be unlike any other.