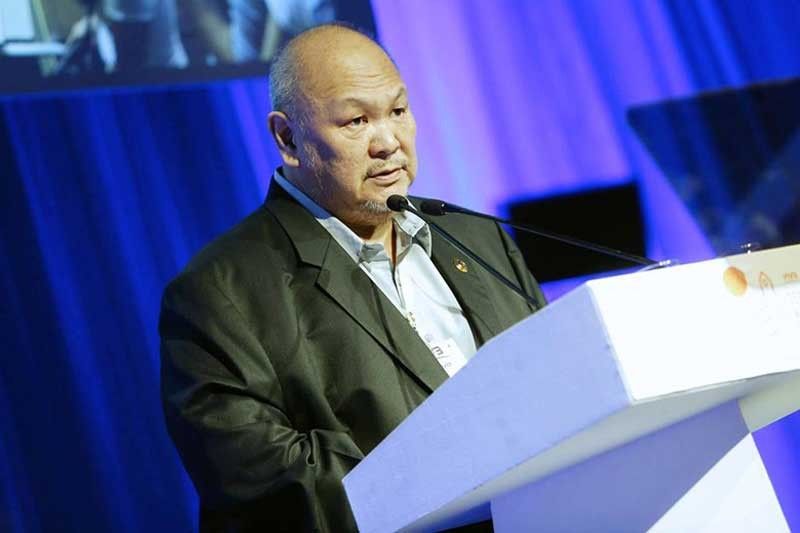 "The coaching staff will present the updated program for the women's team up to the Southeast Asian Games," said Cayco. "We hope to name the pool of 20 for the women's team by the third week of this month as we already have the core. Shaq (de los Santos) is the head coach assisted by Kung Fu Reyes and Brian Esquivel."
Facebook Photo
Larong Volleyball Sa Pilipinas, Inc. sets directional meeting
MANILA, Philippines — Larong Volleyball Sa Pilipinas, Inc. (LVPI) president Peter Cayco is convening a directional meeting with the coaching staff of the national women's team and will also take up the formation of the men's squad at the Orchid Garden Suites in Malate this afternoon. Joining Cayco in the meeting are LVPI secretary-general Ariel Paredes and LVPI vice president Joey Romasanta.
"The coaching staff will present the updated program for the women's team up to the Southeast Asian Games," said Cayco. "We hope to name the pool of 20 for the women's team by the third week of this month as we already have the core. Shaq (de los Santos) is the head coach assisted by Kung Fu Reyes and Brian Esquivel."
Cayco said the pool of 20 for the men's team will be announced when the coaching staff is formed. "We haven't decided on the coaching staff yet for the men's team," he said. "Those being considered are Sammy Acaylar, Oliver Almadro, Sherwin Meneses and Maki Carino but not limited to these guys as some more names may crop up during our meeting."
While it appears that the women's team will once again train in Okayama, Cayco said no camp has been considered for the men at the moment as everything will depend on the coaching staff. With the Philippines hosting the next SEA Games late this year, Cayco said he's optimistic of a podium finish for both men and women. The Philippines has failed to bring home a medal in volleyball in the last six SEA Games. The men's and women's teams did not participate in volleyball in four of the last six SEA Games.
Cayco said it's his dream to synch the tournament schedules of the NCAA, UAAP, PSL and PVL so that the national teams for men and women are given priority in training and competition. "Right now, the PSL and collegiate leagues are synched with the LVPI schedule (but) we're still working on synching with the PVL."
Romasanta said in Thailand, the national teams for men and women are given two months to train without interference from clubs or schools. "Two months before a competition, everything stops in Thailand for the national teams," he said. "With us, the challenge is to align the schedules of the NCAA, UAAP, PSL and PVL so that players are released without conflict in training with the national team. The situation is similar to what's happening between the PBA and SBP. It's a matter of getting the schedules ahead so they can be synched."
Romasanta pointed out that most of the women players in the national team come from the PSL except for Alyssa Valdez and Jia Morado of the PVL. "Rebisco is the national team sponsor and luckily, Alyssa and Jia play for Creamline, which is owned by Rebisco, in the PVL," he said. "It's Peter's idea to make a general invitation for players to try out. We want to open participation for the national team to everyone. But it's important to synch our schedules. We've had a situation before where a player practices thrice for different teams in a day so you can imagine the burn-out factor."
Romasanta said training in Okayama has been a positive for the women's squad. "Our players are like honorary citizens in Okayama," he said. "That's where the Seagulls club is based so we get to practice with a Premier League Division I team. My observation is when the players get together for the national team, they're united with a single purpose, regardless of what clubs or schools they play for. In Okayama, they bond and work as a family, like sisters. We hope to maintain that camaraderie all the way to the SEA Games and beyond."