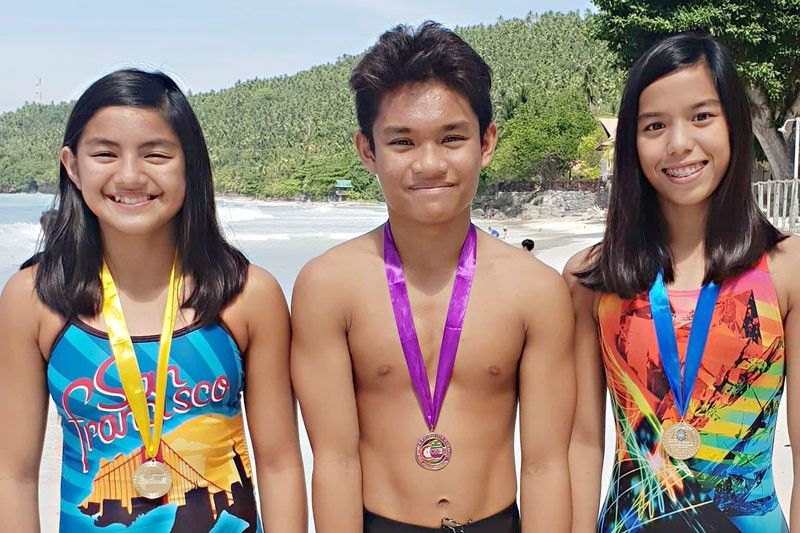 Record-breakers Micaela Jasmine Mojdeh (left), Francisco Cordero (center) and Phelicity Bose pose after the Inter-School Friendship Swimming Meet in General Santos City.
Mojdeh leads swim record breakers
(The Philippine Star) - December 30, 2018 - 12:00am
MANILA, Philippines — Palarong Pambansa champion Micaela Jasmine Mojdeh of Immaculate Heart of Mary College-Parañaque led the list of record-breakers on the opening day of the 151st PSL National Series – third LC5 Inter-School Friendship Swimming Meet held at the LC5 Swimming Pool in General Santos City.
Mojdeh, fresh from a successful campaign in the 2018 Tokyo Age-Group Swimming Championship in Japan, notched two new records in the girls' 11-12 division.
The reigning Swimmer of the Year awardee broke the mark in the 200m breaststroke, checking in at two minutes and 52.65 seconds to erase the 3:01.45 previous mark of Zhakira Idulsa in 2015.
Mojdeh also smashed the 200m buttefly 2:49.53 record of Aubrey Bermejo three years ago with a time of 2:28.09.
"It's a good sign that these kids are improving from time to time. Imagine them a few years from now. These are the products of our grassroots development program. We will continue supporting them until reaching their ultimate goal which is making it to the Olympics," said PSL president Susan Papa.
Palarong Pambansa veteran Francisco Cordero also set new norms in the boys' 11-12 200m breaststroke following his 2:44.87 showing that broke the 2:53.83 mark of Rio Lorenzo Malapitan in 2016.
Sharing the spotlight were fellow General Santos City tankers Phelicity Bose (girls' 15-over 100m breaststroke, 1:13.49), John Alexander Talosig (boys' 13-14 400m freestyle, 4:22.56 ), Klent Garcia (boys' 9-10 100m breaststroke, 1:32.07) and Mary Batalla (girls' 13-14 200m butterfly, 2:56.92) who also erased records in their respective age-groups.
"We would like to thank Lolita Palacios and Bob Palacios – our PSL Mindanao regional director for hosting this competition. They are doing so well in terms of grassroots development program in the region," added Papa.
The other gold medal winners were Xyreille Chiong, Jie Angela Talosig, Nicole Rojo, Jierlyn Paredo, Lia Pabellon, Jibril Talosig, Anthony Acedo, Jasmine Bautista, Seanna Martin, Izyndro Warain, Suncel Macapobre, Al-Nazzer Saggap, Heather White and Hannah White.