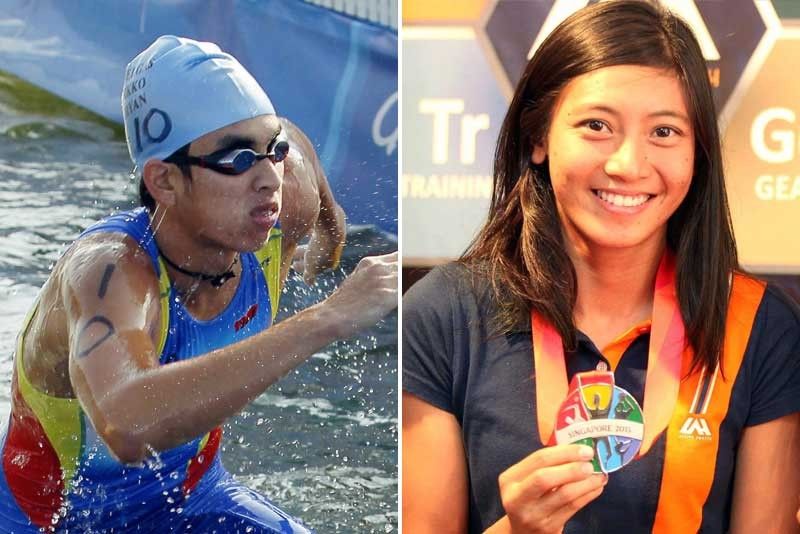 Nikko Huelgas, Kim Mangrobang
Filipino triathletes gun for repeat in Southeast Asian Games
Olmin Leyba
(The Philippine Star) - December 27, 2018 - 12:00am
MANILA, Philippines — Filipino triathletes have set their sights on a stellar outing next year when they seek to repeat a rare golden double in the Southeast Asian Games, which the country is hosting in November.
In the 2017 SEA Games, Filipino bets in the swim-bike-run competitions took the 1-2 positions in both the men's and women's divisions, with Nikko Huelgas and Kim Mangrobang taking gold and compatriots John Chicano and Claire Adorna grabbing the silver. They intend to continue the trend on home soil in 2019.
"Our 2019 target is to retain the double gold in the SEA Games triathlon and also add some more golds in duathlon and mixed team relay," said Triathlon Association of the Philippine honcho Tom Carrasco.
To gear up for this mission, Carrasco said TRAP has penciled overseas training camps for Mangrobang in Portugal, JC Ocampo and Mark Hosana in Australia and Huelgas and Chicano at the famed Trisutto training camp in Thailand.
The Pinoy tri-warriors are coming off what Carrasco felt was a "modest showing" this year, highlighted by solid outings in the Palembang Asian Games by Chicano (10th), Huelgas (16th), Mangrobang (7th) and Kim Kilgroe (9th).
"We targeted to land in the top 10 in the Asian Games Triathlon in Palembang which I feel is modest. Summing up our 2018, it is modest," said Carrasco.
"While our athletes won some Asian level events, with John and Nikko Huelgas winning at least one Ironman 70.3 in Asia and Kim Mangrobang winning the National short distance duathlon in Portugal, the others lagged behind," he added.
Additionally, TRAP has high hopes for Mangrobang, its top prospect for the next Summer Olympics.
"Hopefully, Kim Mangrobang lands a slot in the 2020 Tokyo Olympics, " said Carrasco.