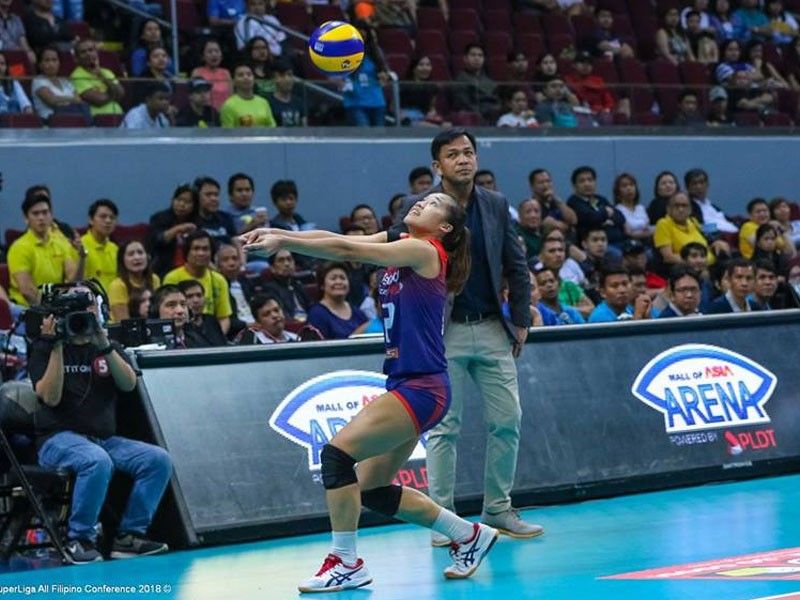 Bernadeth Pons receives the ball as Petron head coach Shaq Delos Santos looks on.
Philippine Superliga
With Superliga sweep within reach, Petron coach wary of another F2 comeback
MANILA, Philippines – Despite moving three sets shy of sweeping the Philippine Superliga All-Filipino Conference, Petron coach Shaq Delos Santos still insists that it's a long way to go.
"While it's inspiring to break our own record, I always tell my players that we should not forget our main goal which is to win back-to-back (All-Filipino) title," said Delos Reyes, who will lead the Blaze Spikers in Game Two of their best-of-three finals showdown against F2 Logistics Tuesday at the Mall of Asia Arena.
Delos Santos' claim is standing on solid ground.
In the Grand Prix last year, the crown was within Petron's reach after winning Game One and posting a 9-0 lead in the opening moments of Game Two of their best-of-three series.
But De Jesus pulled off a shocker when he tweaked his lineup, pulling veteran spiker Cha Cruz from the bench in lieu of Kianna Dy while moving American import Kennedy Bryan back to her original position at the opposite spot.
The gamble paid off as the Cargo Movers won Games Two and Three to emerge victorious in probably the most thrilling and dramatic finals showdown in Philippine volleyball.
"That's why we don't want to be complacent," said Delos Santos, who will bank on spikers Sisi Rondina, Bernadeth Pons and Frances Molina anew while blockers Remy Palma, Ging Balse and Mika Reyes take care of defending the net.
"It's still a long way to go. We know F2 Logistics will not go down without putting up a fight."
He said F2 Logistics coach Ramil de Jesus is the best in the business when it comes to making adjustments, especially when the stakes are high and the crown is on the line.
"Knowing coach Ramil and his team, they will bounce back for sure. But on our part, we will double, triple or even quadruple our effort in Game One to win the title."
De Jesus said Petron should not count them out as they are ready to throw everything just to stay alive.
In fact, leaders Aby Marano and Cruz vowed to be at their best while Kim Fajardo, Majoy Baron, Dy and Michelle Morente are all expected to step up just to forge a kill-or-be killed Game Three.
"We've been in this situation before," De Jesus said. "We will do everything to stay alive and pull it off."