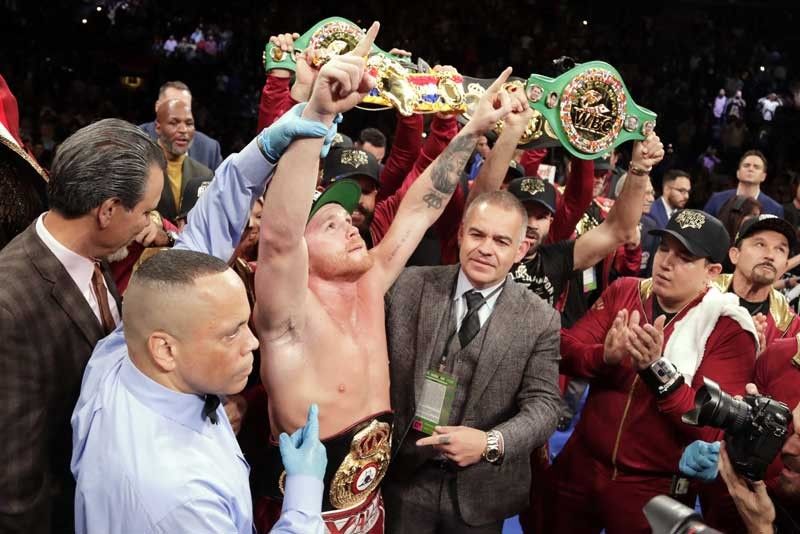 Mexico's Canelo Alvarez celebrates after a WBA super middleweight championship boxing match against England's Rocky Fielding in New York.
AP
Alvarez stops Fielding, cops 3rd division title
(Associated Press) - December 17, 2018 - 12:00am
NEW YORK – Canelo Alvarez threw a Garden party Saturday night. A short and powerful fiesta.
Alvarez landed dozens of body punches, knocking down Rocky Fielding four times and stopping him in the third round to earn his third weight class title, taking the WBA super middleweight belt.
Coming off his close decision against Gennady Golovkin three months ago to take the WBA and WBC middleweight titles, Alvarez could hear chants of "Canelo! Canelo!" long before he entered the Madison Square Garden ring for the first time. Throughout a lengthy undercard, it was clear who the sellout crowd of 20,112 came to see and cheer.
He delivered with power and precision, landing 73 punches, 35 to the body.
"That was the plan in the gym, to hit the body and then move up, and that's the result," Alvarez said through an interpreter. "You see the result here."
Only eight other Mexican fighters have held three division titles. And Alvarez, 28, says he is headed back to the 160-pound class he rules, with possibly a third go with Golovkin in 2019. The next fight, opponent unknown, is set for Las Vegas in early May.
If this was a one-off at 168 pounds, it was quite a show in his debut at Madison Square Garden.
The fight ended with 22 seconds remaining in the third after two knockdowns in the round.
Fielding, 31, won the WBA crown in July when he knocked out Tyron Zeuge in Germany in the fifth round.