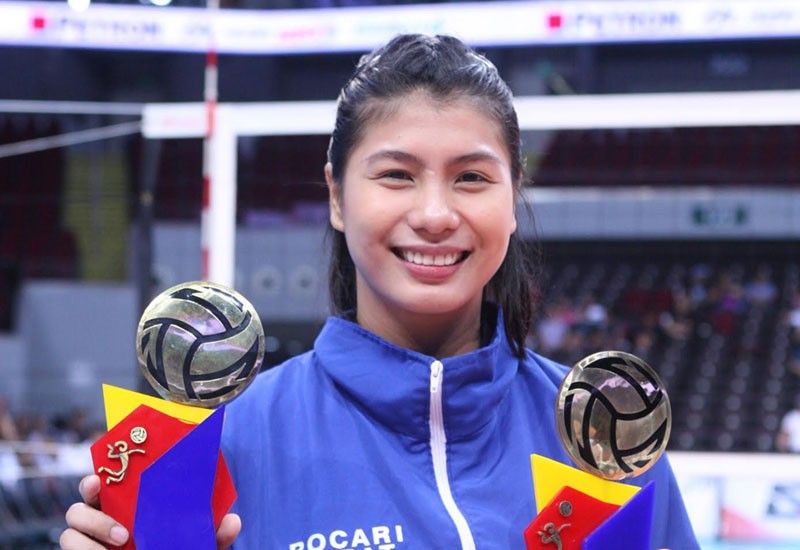 Motolite's Myla Pablo admits almost jumping ship to PSL
MANILA, Philippines – The intense derby to land her services nearly brought Myla Pablo back to the Philippine Superliga.
In a television interview, Pablo admitted that she nearly reached an agreement with a PSL team, a deal that that could have marked her return to the country's most prestigious club league after a two-year absence.
Pablo refused to drop names, but sources said Cocolife was the frontrunner in what team managers and sideliners branded as the "Myla Pablo Sweepstakes."
Cocolife, in fact, was said to be willing to break the bank just to secure her services.
Asset Managers' team official Josh Ylaya stressed that they have a very solid plan for Pablo as she will team up with another power-hitter in Filipino-American Kalei Mau to form a nucleus that could match the dominance of foreign players.
Aside from Mau, the Asset Managers are also planning to recruit a veteran setter and a pair of defensive-minded middle blockers to augment the brilliance of Denden Lazaro at the backline.
But it didn't happen.
In a shocking twist, Pablo committed with Motolite late Friday, leaving the Asset Managers holding an empty bag.
"Yes, I almost agreed to join a team in the PSL," said Pablo, who stressed in a previous statement that she wants to join a team that has a solid plan and can give her a direction that would lead to a title.
"But at that time, the management (of Pocari Sweat) talked to Motolite. Then we talked and I listened. I liked their offer. That's why I commit to them."
Pablo said she has yet to sign a contract, but she's already committed to join Motolite, which is figuring against Creamline in a best-of-three finals series in the Premier Volleyball League.
"Actually, we haven't signed anything yet. But my commitment with Motolite is already there," said Pablo, adding that she likes the direction which her new club presented.
"I think this is a different team. I talked to our manager and boss Jess Montemayor, who said that our team would be competitive next season."
Aside from Cocolife, also rumored to show serious interest in Pablo were Sta. Lucia, Cignal, Foton and F2 Logistics in the PSL and BanKo and PetroGazz in the PVL.