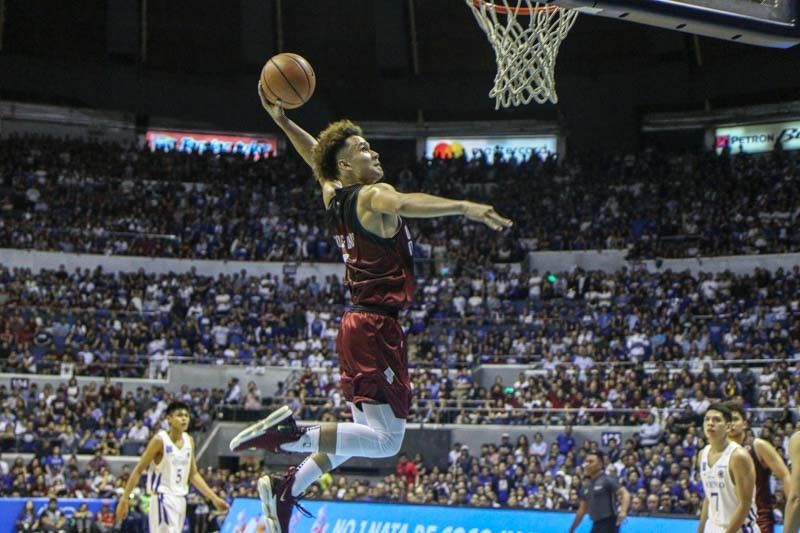 UP's Juan Gomez de Liano soars for a tomahawk slam.
Philstar.com/Efigenio Toledo IV
Watch out for UP Fighting Maroons next year, Ateneo's Baldwin warns rest of UAAP
MANILA, Philippines – Ateneo coach Tab Baldwin expects University of the Philippines to be a force to reckon with come Season 82 of the UAAP men's basketball tournament.
The American-Kiwi mentor was amazed with how the Fighting Maroons transformed into a title contender this year after experiencing some struggles early in the season.
"Their season has a lot of character to it because they were struggling early on. I don't know how they did it but they sure got it together," said Baldwin minutes after leading the Blue Eagles to their second straight title.
"They got these guys playing as a team, playing extremely hard and they put together a great season," he added.
After a shaky win in Game One, 88-79, Ateneo rode on the career game of Thirdy Ravena to complete the sweep via a 99-81 win in Game Two to bag the school's 10th UAAP title.
And Baldwin had nothing but praises for coach Bo Perasol and the rest of the Fighting Maroons coaching staff.
"I think you gotta give credit to every single one of them. The coaches obviously did a good job and the players worked well with the coaches. They really deserved a credit for that," said Baldwin.
"They will be a force to reckon with and I don't think it will get any easier next year," he added.
Paul Desiderio, Jireh Lim, Gelo Vito and Diego Dario are graduating for UP but the Diliman-based team will have former La Salle players Ricci Rivero and Kobe Paras in its roster in Season 82.