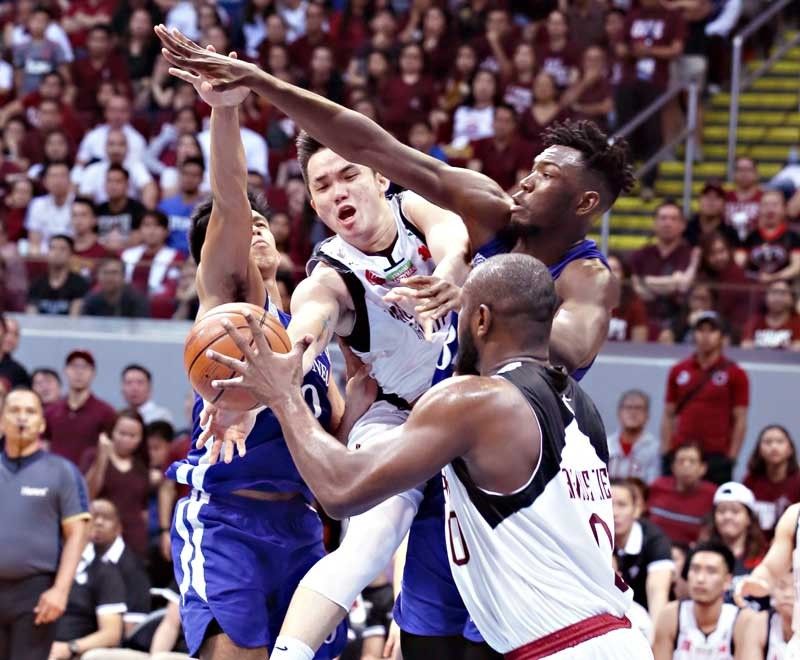 Game 2 of the UAAP best-of-three title series features Paul Desiderio and Bright Akhuetie of the University of the Philippines and Thirdy Ravena and Kakou Kouame of Ateneo.
Joey Mendoza
UAAP game 2: Duel of Katipunan can go either way
Olmin Leyba
(The Philippine Star) - December 4, 2018 - 12:00am
Maroons confident they can also sweep Eagles
MANILA, Philippines — University of the Philippnes coach Bo Perasol said the brave stand against mighty Ateneo in the finals opener emboldened the underdog Maroons to believe in themselves more and fight harder next time.
"I really appreciated how they fought it out," said Perasol, whose wards now have to beat the Blue Eagles twice to steal the coveted crown. "I told them, if we fought with a twice-to-beat disadvantage against Adamson, why not do it again against Ateneo?"
The Maroons went toe-to-toe with the Eagles for majority of Game One and the defending champions only managed to pull away in the last five minutes en route to an 88-79 win.
"I'm still positive about our chances. We had to do some preparations, which we didn't have in the last few days. I'm quite sure we'll be better next Wednesday (Game Two)," Perasol said.
The UP mentor said Game One pretty much showed that the consensus team-to-beat is well, "beatable."
"For a first timer in the finals, I appreciate the kind of effort my boys have shown. If there's one takeaway from this game, my boys have shown it's possible that we can beat Ateneo.
"Before the finals, everybody was like you have no match against this team, you have no experience going to the finals. But they've shown that with a little tweaking in defense, probably a little rest, they can give Ateneo their money's worth," he said,
He pointed out that UP's no-quit attitude was in display as they battled through periods of Bright Akhuetie sitting on the bench to have a knee injury treated in the third.
Eagles didn't realize UP rivals tough as nails
Believe it or not, highly-touted Ateneo entered the UAAP Season 81 men's basketball finals against tough-as-nails University of the Philippines with wary eyes.
"Now I could say it, we really didn't want them in the finals," said Ateneo coach Tab Baldwin of the opposition that earned the right to challenge for their throne. "But that's what we got so that's what we have to face."
The resurgent Maroons proved that Baldwin was right in being wary of them.
Emotionally high and riding the momentum of breaking a 32-year finals absence, the Maroons gave the Blue Eagles a run for their money in Game One, maintaining a close contest until the last five minutes when the more seasoned Ateneans outsteadied them heading to the finish for an 88-79 verdict.
"Tough game, tough game. I think the outcome was in doubt probably until the last couple of minutes," said Baldwin.
It was a far cry from the squad the Eagles dismantled with relative ease back in the elims.
"They are much more determined, much more cohesive. They understand their personnel, they understand how to create shots and they understand how to play for one another," said Baldwin.
"So that always makes a team tougher. It's something that probably coach Bo (Perasol) was working on throughout the season and I think he's got it pretty close to right. Now, they're a really, really tough opponent," he added.
With a back-to-back title conquest in sight, expect the Eagles to make the necessary adjustment for Wednesday's Game Two, especially on the defensive end.
"We have to expect a lot more from our defense on Wednesday," said Baldwin.