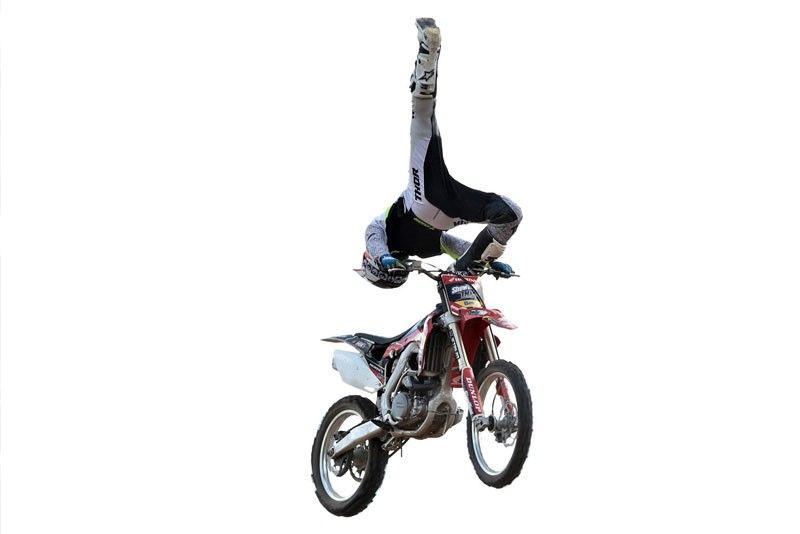 Matt Buyten's acrobatic exhibition.
US rider stars at Quirino motocross
(The Philippine Star) - December 3, 2018 - 12:00am
MANILA, Philippines — American motocross superstar Matt Buyten, seven-time X Games Step Up medalist, wowed the crowd in the recent Quirino Motocross Challenge at the newly built Capitol Motocross Mountain in Cabarroguis town.
The Nevada-born athlete won gold in 2011, 2010, 2006 and 2003, sixth in 2014 and fifth in 2015 in the annual extreme sports event hosted, produced, and broadcast by ESPN cable channel.
In 2012, he dedicated his X Games performance to the Autism MX Project to bring awareness to autism among children within and via the motocross community.
Buyten's death-defying acrobatic exhibition is an exciting sidelight to the Motocross Challenge races which was participated in by riders from the Cagayan Valley region and neighboring provinces.
According to Quirino Gov. Junie Cua, the event showcases the province as a haven for motorcycle sports and tourism because of its splendid and scenic road networks.
He said the provincial government has been promoting the sport for more than a decade, including the annual Quirino Motorismo to usher in the summer season. Regarded as the country's biggest motorcycle festival, the event featured a 1,000-km Endurance Challenge, a bike show, habal-habal challenge, Motokana obstacle course, a drag race, and an exhibition by Canadian daredevil Billy John Kohut.
In 2015, it held the Quirino to Quirino (Q2Q) race, a 350-km ride from Quirino Grandstand in Luneta to the Capitol Complex to commemorate the 125th birthday of former President Elpidio Quirino, after whom the province is named.