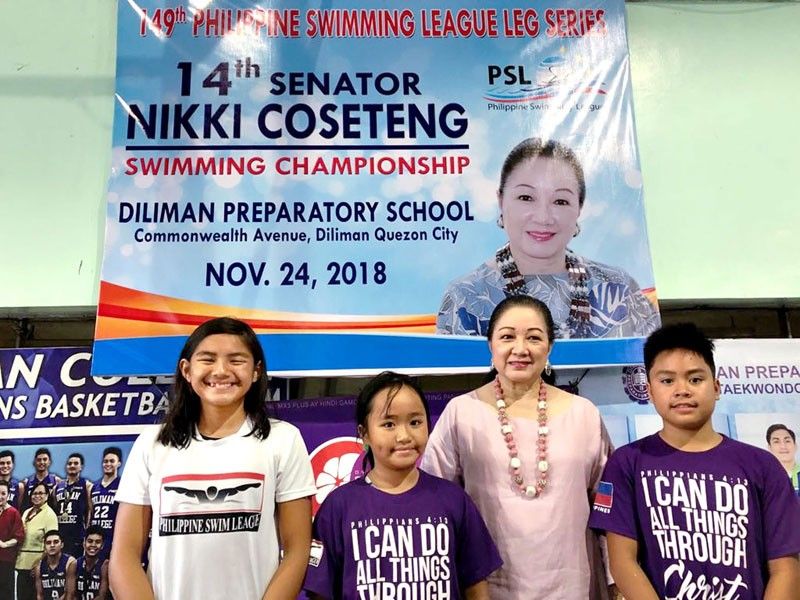 Former Sen. Nikki Coseteng poses with Most Outstanding Swimmers, from left, Micaela Jasmine Mojdeh, Raine Callera and Marc Bryan Dula.
34 bets sparkle in PSL-Sen. Nikki Coseteng swim
(The Philippine Star) - November 26, 2018 - 12:00am
MANILA, Philippines — Thirty-four tankers bagged the Most Outstanding Swimmer (MOS) awards in their respective age-bands in the 149th Philippine Swimming League (PSL) National Series-12th Sen. Nikki Coseteng Short Course Swimming Championship held at the Diliman Preparatory School swimming pool in Quezon City.
Heading the list of awardees in the Elite Class was Male Swimmer of the Year Marc Bryan Dula of Masville Elementary School with five gold medals – all in record fashion – to win the top honors in the boys' 11-year category.
Dula broke records in the 100m IM (1:12.15), 100m butterfly (1:08.31), 100m backstroke (1:10.06), 100m breaststroke (1:23.40) and 100m freestyle (1:04.13) in the tournament organized by Sen. Nikki Coseteng and supported by MX3 and DMI Medical Supplies Company.
"We want to help as many kids as we can. It's part of our program to provide them venues to excel, identify those who have talent, train them and send them abroad. We will continue doing this for them," said PSL president Susan Papa.
Also winning MOS awards were Diliman Preparatory School tankers Paula Carmela Cusing (girls' 15-over), Jenn Albreicht Sermonia (girls' 10-year) and Lee Grant Cabral (boys' 12-year) as well as Palarong Pambansa Most Bemedalled Athlete Micaela Jasmine Mojdeh of Immaculate Heart of Mary College-Parañaque (girls' 12-year).
The other MOS winners in the girls' class were Raine Callera (8), Portia Jean Belo (9), Triza Tabamo (11), Sofia Beatrize Lopez (13) and Hazel Tan (14) while Aishel Cid Evangelista (8), Jamesray Ajido (9), Trump Luistro (10), Marcus De Kam (13), JM Rala (14) and Jules Mirandilla (15-over) were the other MOS recipients in the boys' division.
In Class C, the MOS winners were Clara Maligat (7), Maxene Eira Cruz (8), Althea Roxas (9), Sofia Gomas (10), Rica Angel De Silva (11), Diane Mijares (12), Lizzie Alberto (13), Sophia Gene Tumangday (14) and Jewel Susan Sermonia (15-over) in girls; and Nathaniel Capua (7), Nelson Ritchie (8), Ezechiel Marlon Marcelino (9), Jassen Rosas (10), Ryan Lotino (11), John Victor Berenguel (12), Raya Calimlim (13), Jeric Cortez (14) and Rafael Curray (15-over) in boys.