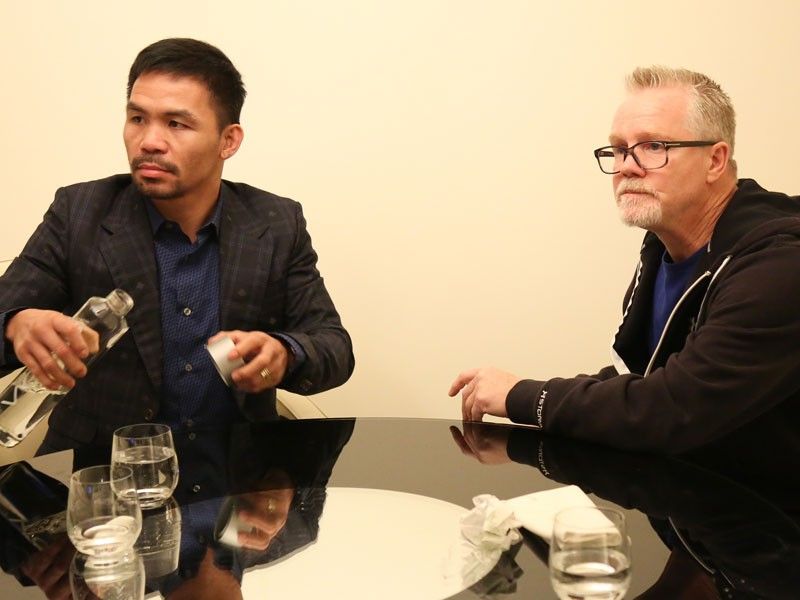 Manny Pacquiao and Freddie Roach during their meeting.
Wendell Alinea/MP Promotion
Pacquiao, Roach reconnect in LA
MANILA, Philippines – After a long while, Manny Pacquiao and Freddie Roach hooked up Wednesday to discuss the possibility of reuniting for the Filipino champion's title defense against Adrien Broner on January 19 in Las Vegas.
Roach said the last time he spoke to Pacquiao was right after the fight against Australia's Jeff Horn at the Suncorp Stadium in Brisbane.
That was in July of 2017, when Pacquiao took a bitter and controversial loss to the former school teacher.
The meeting that took place in Beverly Hills was a positive sign that the 16-year partnership between the two future Hall of Famers may be renewed.
However, nothing's certain at the moment.
Pacquiao announced in New York two days ago that he wants Roach back in his team following the latter's absence when Pacquiao knocked out Lucas Matthysse in Kuala Lumpur last July.
But Pacquiao made it clear that Roach's role would be to supervise his training while longtime friend Buboy Fernandez conducts the day-to-day operations.
"My plan, my thinking is he (Roach) can use Buboy to do mitts in training, (Roach can) supervise and watch the training, like that," said Pacquiao.
Prior to the meeting, however, Roach said he wants things clarified.
"I'd have to hear what the details are," Roach told SI.com.
"You never know who it is coming from when you hear from his camp. I'd have to hear what he wants me to do, what he wants Buboy to do. Am I supposed to train him? Am I supposed to come up with the game plan? He has to tell me, or I won't be there," added the 58-year-old Roach.