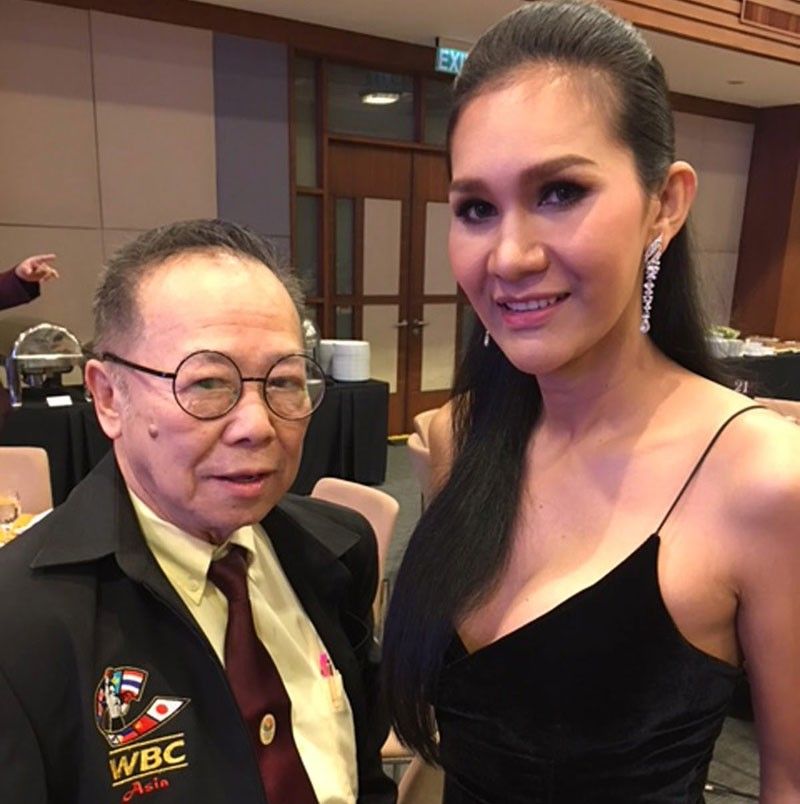 Thai businessman Naris Singwancha (left) and transgender Muay Thai ambassador Parinya Jaroenphon.
Transgender offers to assist Filipino Muay Thai fighters
MANILA, Philippines — Thai transgender Parinya Jaroenphon said the other day she's ready to promote Muay Thai as an ambassador in the Philippines and extended her offer to include training Filipino women in the sport where the 37-year-old celebrity was once a standout with over 70 bouts, several titles and appearances from Japan to Sweden.
Parinya was recently in town to attend the WBC Women's Convention and Asian Summit at the Philippine International Convention Center (PICC). She was a guest participant and magnet for selfies throughout the two-day gathering.
"I've retired from fighting," she said. "But I'm still active in promoting Muay Thai and training fighters. I'm busy with a lot of activities. I've done over 10 movies, mostly action films, never romantic. I sometimes date but I'm careful not to be involved in a relationship because I don't believe in the sincerity of some men when they propose to me."
Born to a poor family in a town near Bangkok, Parinya said she sensed something wrong with her gender at the age of six. "I liked my hair long, I wore dresses and I was very close to my mother," she said. To find herself, Parinya went to a Buddhist monastery then took up Muay Thai. In 1998, Parinya became an instant attraction in the ring, showing up to fight with make-up. After a year, at the age of 17, she retired from Muay Thai and underwent a sex change operation at the Yanhee Hospital.
"I had a sex change and also breast implants," said Parinya, the middle of three children. "I became an actress, singer and model. Then, in 2006, I made a comeback in Muay Thai. I even fought in Sweden. Now, I've retired as a fighter but I'm still actively promoting Muay Thai." Her all-time favorite Thai fighter is former WBC superbantamweight champion Samart Payakaroon who was known for his good looks and fighting ability. Samart, now 55, became an actor and singer after he retired from boxing. In 2003, a sports bio movie entitled "Beautiful Boxer" on Parinya's life was released to critical acclaim.
Another prominent Thai boxing figure who attended the convention was Naris Singwancha, a retired 73-year-old philanthropist who made his millions in real estate. Singwancha has been involved in boxing for over 20 years and managed several Thai world champions including former WBC flyweight titlist Pongsaklek Wonjongkam, former WBC bantamweight and superfeatherweight ruler Sirimongkol Singmanasak and former WBC minimumweight titleholder Wandee Chor Chareon.
"When I was younger, I used to visit Manila once a month, now it's once in two months," said Singwancha. "I fell in love with Philippine boxing because of Manny Pacquiao. His story is an inspiration. He came from a poor family and never forgot his beginnings. He helps millions of people, not just as a world champion or a rich man but now, as a senator. Pacquiao inspires me to help people. In Thailand, I give the equivalent of about P5,000 a month to 28 former Thai world champions each. In the Philippines, I give to the GAB $1,000 a month to distribute to about 12 former Filipino world champions. It's my way of helping out retired fighters and taking care of former world champions who brought honor to their country."
Singwancha has opened a boxing gym in Cebu with Wakee Salud and paid for the construction of a 12-room dorm where more than 20 boxers live. The Thai patron is known to give cash incentives for boxers who score sensational wins, particularly by knockout, when he's at ringside. During the convention's Gala Dinner last Saturday night, GAB chairman Abraham Mitra presented Singwancha with a special citation for his contribution to Philippine boxing.