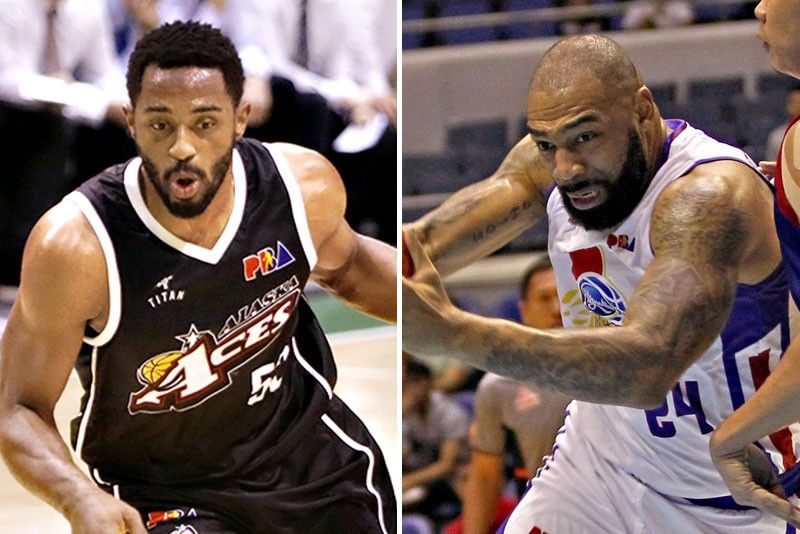 Mike Harris, Romeo Travis
Long break favors Aces, Hotshots
MANILA, Philippines — For Alaska Milk and Magnolia, the period between now and Dec. 5 is a welcome breather allowing them to recover from the rigors of the almost daily grind in the past three weeks and be ready for what could well be a higher level of championship battle to determine the winner of the 2018 PBA Governors Cup.
The consensus among almost everybody is that the 17-day break guarantees a slam-bang series between two teams that are well-matched and both highly motivated to go all out in chase of the coveted crown in the season-ending tourney.
The Aces and the Hotshots, pitted in a title showdown for the first time in eight years, begin their battle on Dec. 5 at the MOA Arena shortly after the two home games of the national team in the FIBA World Cup qualifiers.
"It makes for an interesting title showdown as both will be able to rest their weary legs, heal their injuries and make good preparation for a battle," said Magnolia coach Chito Victolero.
"I'm excited. It's kind of weird to have a break but I understand why. It's a different set-up. Honest to goodness, I love it right now because I'm so stressed-out and tired. I haven't slept in a while. If we start the finals like on Wednesday, it would not be good for my health," said Alaska coach Alex Compton.
The same is the case for almost all the players.
Magnolia import Romeo Travis and ace guard Paul Lee have health issues. For Alaska, also dealing with health woes are Vic Manuel and Chris Banchero.
"I couldn't play, I couldn't go on with my injury," said Travis if Game One of the best-of-seven title series would be played now. He is to heal a grade 2 hamstring strain.
Both the Hotshots and the Aces needed four games to dispatch the Barangay Ginebra Kings and the Meralco Bolts, respectively, in their best-of-five semifinals.
They set up a duel between two teams which have been without a title in the league in a while. Alaska lost four previous title playoffs while Magnolia dropped a championship battle just in the recent Philippine Cup.
"It's a battle between two hungry teams and teams with almost the same style of play. It could well go down to execution," said Victolero, ranged against Compton in a duel of coaches both looking for a breakthrough PBA title.
Curiously, Victolero and Compton used to battle on the playing court in their MBA days.
"I'm impressed with Chito, he's doing a phenomenal job with the way they're playing," said Compton.
"I think they play the right way. Magnolia is just playing so well, they're clicking and their guys are healthy and their import is playing great and smart basketball. We've got to turn it up," Compton also said.
It's too close to call.
"Parehong may magaling na import. Parehong may magandang backcourt, parehong may frontcourt," said Victolero.
But at least, they have two weeks to plot their schemes.