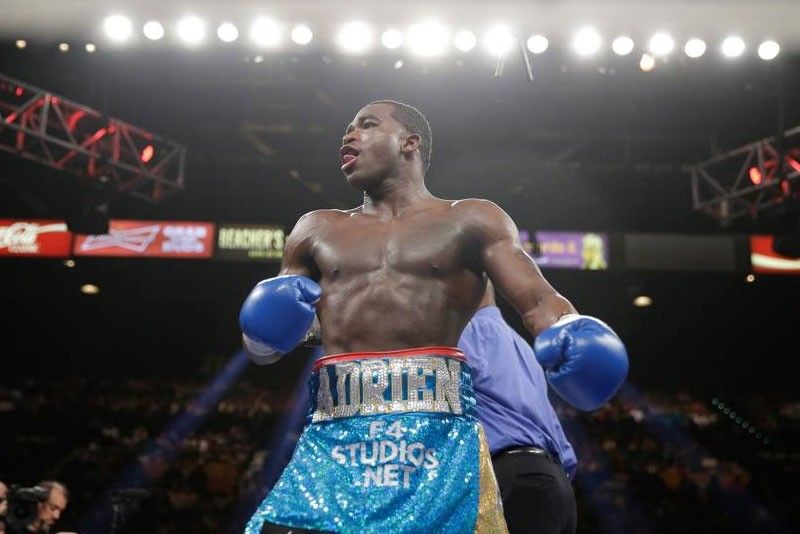 "I think he hasn't fought over 50 percent of what he can actually do. I've followed his career in the amateurs and pros and I think he could be another Floyd Mayweather, Jr. said Detroit referee Frank Garza.
AP
Broner dangerous with attitude
MANILA, Philippines — Detroit referee Frank Garza said WBA welterweight champion Sen. Manny Pacquiao must be in tip-top shape to beat Adrien Broner, whom he described as a dangerous opponent with an attitude, when they square off at the MGM Grand Garden Arena in Las Vegas on Jan. 19.
Garza, who conducted a referees' seminar during the WBC Women's Convention and Asian Summit at the Philippine International Convention Center (PICC) this past weekend, has worked two of Broner's fights, both ending in a knockout. In 2010, Garza was the third man in the ring when Broner stopped Guillermo Sanchez in two rounds and the next year, he worked Broner's third round stoppage of Vincent Rodriguez. Both bouts were held in Cincinnati.
"What makes Broner dangerous is his tremendous potential," said Garza. "I think he hasn't fought over 50 percent of what he can actually do. I've followed his career in the amateurs and pros and I think he could be another Floyd Mayweather, Jr. But even without fulfilling his potential, Broner has won four titles (WBO superfeatherweight, WBC lightweight, WBA superlightweight and WBC welterweight championships) which says a lot about his talent."
If Pacquiao fights in form, Garza said Broner isn't likely to win. "Right now, I think it's 60-40 for Pacquiao," he said. "The key is for Pacquiao to fight his fight, not Broner's. If he comes in aggressive, throwing punches, using his quickness to create angles, Broner will find it difficult to match up. Broner's the type of fighter who doesn't like an opponent in his face."
Garza said Pacquiao and Tommy (Hitman) Hearns are two of the greatest fighters ever. "What Pacquiao has done is amazing, winning titles from flyweight to superwelterweight," he said. "Hearns was just as incredible." Pacquiao has captured world titles in eight weight divisions while Hearns, who retired in 2006 and is now 60, did it in six from welterweight to cruiserweight.
Garza said Broner's attitude is well-known in boxing circles. An example of Broner's attitude was when he showed up eight pounds over the limit at the weigh-in for his defense of the WBC Youth Intercontinental superfeatherweight title against Sanchez in 2010. "Broner refused to shed off the weight," he recalled. "At first, Sanchez refused to go on with the fight because Broner was too big. But to save the show, the promoter offered Sanchez an additional $65,000 to his purse so it went on. Broner won by a second round knockout. In another case, Broner came in two hours late for the weigh-in for his fight against Rodriguez. That's the way he is." Broner's monicker "The Problem" reflects his attitude.
Garza began his pro refereeing career in 1986 and has travelled around the world to officiate fights in Monaco, Latvia, China, Finland, India, Japan and Thailand, among others. He has been in the same ring as Mike Tyson, Canelo Alvarez, Erik Morales and Mayweather. But his most memorable assignment didn't involve a marquee fighter. He said it was a club fight some 10 years ago but what made it unforgettable was the bout was held in his hometown in Ohio and his mother was in the audience. Garza had moved to Detroit by then so the homecoming was special.