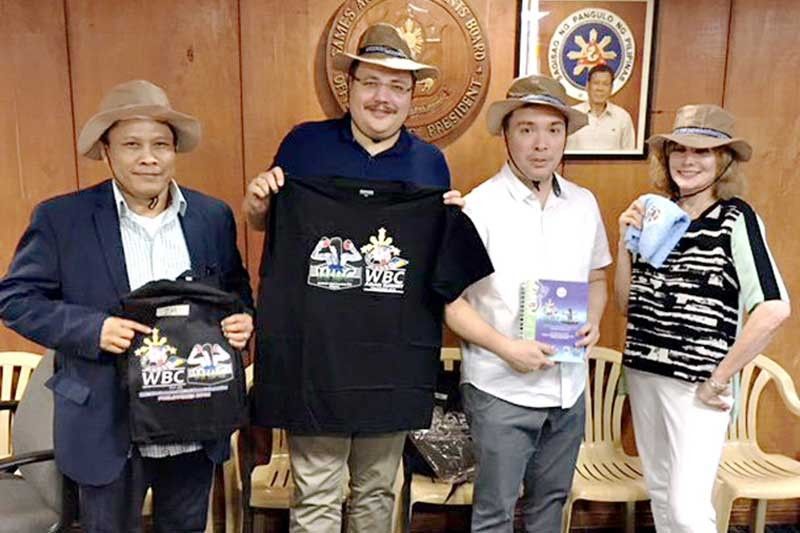 GAB chairman Abraham Mitra (second from right) with (from right) WBC Cares international chairperson Jill Diamond, WBC women's championship committee chairman Malte Muller-Michaelis and WBC Muay Thai rules and regulations cochairman Dej Sri-Ampai.
WBC women's meet under way at PICC
MANILA, Philippines — The third WBC Women's Convention and WBC Asian Summit will be held at the Philippine International Convention Center (PICC) starting today with some 500 delegates from over 17 countries booked to participate in the two-day gathering organized by the Games and Amusements Board (GAB), the local government agency supervising professional sports.
GAB chairman Abraham Mitra said it took over a month of tedious logistical preparations "to ensure a varied program for the continued development of professional boxing, networking opportunities and an enjoyable stay." Mitra himself was in charge of forming different working committees from security to transportation to board and lodging to media coverage to close coordination with the WBC.
It is the first WBC Women's Convention to be staged outside of Mexico after the inaugural edition in Playa del Carmen in 2014 and the second in Tijuana in 2016. The Philippines, however, has hosted the annual WBC Convention thrice, in 1967, 1970 and 2007.
Mitra said the convention will tackle critical issues confronting the sport. "There will be discussions on the past, present and future of the sport of boxing, to address challenges, possibilities and risks and celebrate and honor the many strong and powerful men and women who have made an impact, inside and outside of the ring," he said. Beyond the program proper, Mitra has arranged a visit of WBC Cares to the Tuloy Sa Don Bosco Streetchildren Village in Alabang where P100,000 worth of groceries and toiletries, footballs and sports equipment will be donated by the WBC and GAB tomorrow. He is also providing a tour of Corregidor for the delegates on Monday.
WBC Cares international chairperson Jill Diamond of the US said the convention will be inclusive and interactive, setting the tone for fresh ideas and directions. WBC president Mauricio Sulaiman's wife Christiana Manzur will deliver the welcome address during the kick-off rites this morning. WBC women's championship committee chairman Malte Muller-Michaelis of Germany, WBC women's featherweight champion Jelena Mrdjenovich of Canada, former WBC women's superwelterweight titlist Mia St. John of the US, WBC diamond women's superflyweight champion Raja Amasheh of Jordan and Mexican flyweight Sulem Urbina will also speak in the opening general assembly. Expected to attend the convention is 37-year-old transgender Muay Thai fighter Parinya Charoenphol whose life was immortalized in the 2003 sports biographical movie "Beautiful Boxer."
Tonight, the convention will honor several outstanding boxing figures at the Gala Dinner. Among the awardees are WBC president Mauricio Sulaiman, OPBF president Tsuyoshi Yasukochi, WBC/ABCO Muay Thai president Gen. Khovid Bkahdibhumi, WBC silver championships committee chairman Michael George, Hall of Fame referee Bruce McTavish, Donnie Nietes as the longest reigning Filipino world champion, former Filipino WBC titleholders, former GAB chairmen and current Filipino world and GAB rulers.
Tomorrow morning, a boxing clinic will be held with WBC executive secretary of the WBC Cares executive committee Mo Noor, former Canadian Women's Hockey League commissioner and sports marketing guru Brenda Andress, former WBC women's promoter/trainer Dominik Junge of Germany as speakers. The clinic will be open to promoters, managers, boxers, trainers and matchmakers. WBC ring officials chairman Hubert Minn of Hawaii will preside in a judges seminar while in the afternoon, WBC referees Frank Garza of Detroit and Edward Collantes of San Francisco will take charge of the referees seminar. WBC Muay Thai rules and regulations co-chairman Dej Sri-Ampai will hold a Muay Thai training seminar in the morning and afternoon.
Mitra said the program wouldn't be complete without a boxing card. So tomorrow night, promoter Brico Santig will stage a six-fight event called "The Big Challenge" with WBC silver supermiddleweight champion Azizbek Abdugofurov of Uzbekistan staking his crown against China's Wuzhati Nuerlang in the 12-round mainer. In the undercard, there will be two women's championship bouts, one men's title fight and two Muay Thai matches, one between men and another between women.