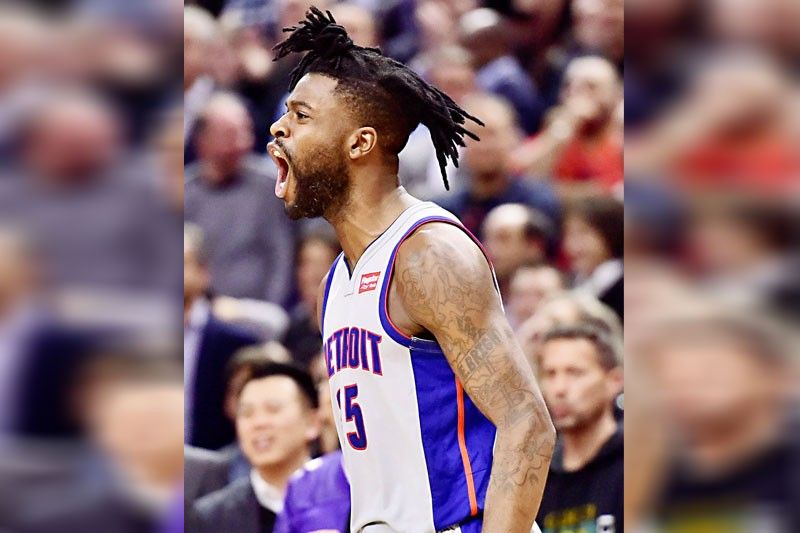 Detroit Pistons guard Reggie Bullock celebrates his game-winning basket during the second half of an NBA game against the Toronto Raptors in Toronto.
AP
Pistons pound Raptors on Bullock clock-beater
(Associated Press) - November 16, 2018 - 12:00am
TORONTO – Reggie Bullock made the winning shot as time expired and the Detroit Pistons rallied from a 19-point deficit to beat the Toronto Raptors 106-104 on Wednesday night, giving coach Dwane Casey a victory over his former team.
Blake Griffin had 30 points and 12 rebounds, Reggie Jackson and Langston Galloway each scored 13 points and Stanley Johnson had 12 for the Pistons. They had lost six of eight.
Kawhi Leonard scored 26 points and Pascal Siakam and Greg Monroe each had 17 for the Raptors. They have lost consecutive home games after a 7-0 start. Toronto (12-3) also failed to match the best start in franchise history. The Raptors went 13-2 to begin the 2014-15 season.
Toronto had won six straight over the Pistons, and nine of the previous 11 meetings.
In Boston, Kyrie Irving had 17 points and seven assists and Boston routed Chicago, 111-82.
Jaylen Brown scored 18 points and Jayson Tatum added 14 to help Boston rebound from two straight losses on a 1-4 trip. Gordon Hayward had 11 points, and Al Horford added 10 points and eight rebounds.
Shaquille Harrison led Chicago with 16 points.
In Milwaukee, Marc Gasol scored 29 points, Mike Conley added 26 and Memphis used a late 15-2 run to hand Milwaukee its first home loss of the season, 116-113.
In Minneapolis, Karl-Anthony Towns had 25 points and 16 rebounds, Andrew Wiggins scored 23 points and Minnesota beat New Orleans, 107-100 to improve to 2-0 since trading Jimmy Butler.
The game was Minnesota's first with forwards Robert Covington and Dario Saric. They were acquired from the Philadelphia 76ers along with injured guard Jerryd Bayless in exchange for the disgruntled Butler.
Covington started and had 13 points and seven rebounds. Saric added nine points and three rebounds.