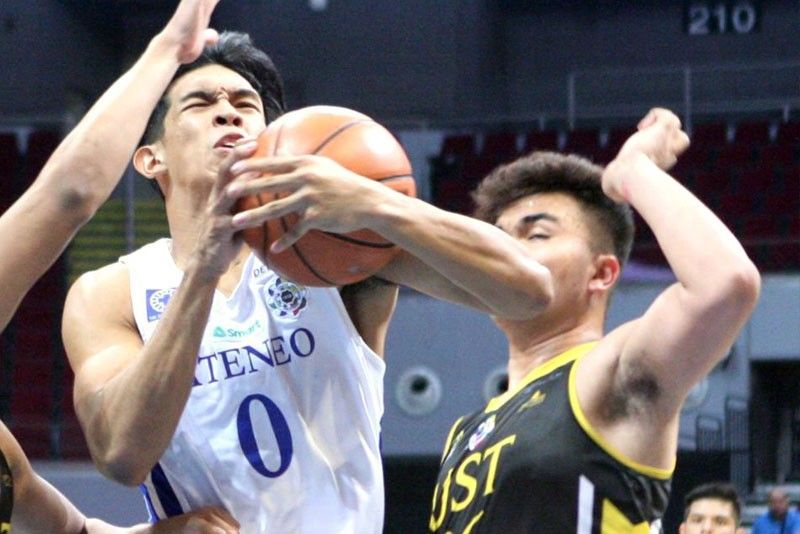 Ferdinand Ravena of Ateneo hangs on to the ball as he drives past Germy Mahinay of UST in their UAAP seniors basketball game yesterday at the Mall of Asia Arena.
Joey Mendoza
UAAP Wednesday analysis: Ateneo blows out UST; UP takes 3rd seed
MANILA, Philippines – The penultimate elimination round game of the 81st UAAP men's basketball tournament did deliver on its promise of playoff implications. Ateneo continues to flash its deadly form while UP found its groove en route to the Final Four.
Here are our thoughts from Wednesday's matches where Ateneo bowled over UST and UP shellacked La Salle.
Ateneo isn't going to go easy on any Aldin Ayo team
The coaching staff may not say it. The players may not say it. But they couldn't care less who is injured. They are going to take it to any Aldin Ayo team. The acrimony built during Ayo's time with La Salle isn't going away any time soon, more so after his comments following UST's first round loss to the Blue Eagles.
The first-year UST's coach's chops aren't in question. It is more of the antics and non-basketball stuff that Ateneo doesn't like. So you bet they enjoyed this 40-point, 102-62 beating (as did La Salle in their previous blowout loss of the Growling Tigers).
The win cemented Ateneo's top seed billing at 12-2. It is just a matter of them playing either La Salle or FEU in the Final Four.
More than that, the game was also notable for the strong play of William Navarro and Matthew Daves. The "next man up" mentality of the Blue Eagles has seen other players step up when the others go down — hoping this will serve them in good stead for the title drive. And it doesn't only work for the players but the coaches too. With Tab Baldwin unavailable, Sandy Arespacochaga took over.
But of note, was how Thirdy Ravena, Isaac G and Coach Sandy pointed out Navarro's mistake of not passing to the former when he was not only ahead but clearly wide open for a bucket. Although Navarro scored and completed the and-one, that wasn't the point. It is the team concept and passing always to the open man. To the credit of the players and Coach Sandy, rather than bench Navarro, he was just talked to and reinserted into the game, where he played even better. This incident serves as one illustration of what the Blue Eagles are all about.
UP arrives!
UP bagged the third spot with a 97-81 win over DLSU, which possibly pushes the Green Archers on the brink of elimination.
More to that later. First…
You have to give massive props to Bo Perasol, who has done a marvelous job in his three years at the helm of his alma mater. They struggled in the first round, but bounced back massively in the second round.
The Maroons played at a higher level than La Salle, which looked disorganized, helpless and lost. Not many teams outside Ateneo can do that to La Salle, but UP just did with a thorough shellacking.
And it was the De Liaño brothers who presided over that blitz that broke the game wide open. Juan and Javi each hit four treys and shot over 50 percent as they scored 27 and 19 points, respectively. As they were on fire, everyone else followed suit. And ages of being in the Final Four, they are back and in a big way.
Massive.
La Salle on the brink
The Green Archers now await the results of this weekend's match between Adamson and FEU. Should FEU prevail, they will tie DLSU at 8-6 and square off for a playoff for the fourth seed, with the victor taking on Ateneo.
A week ago, the Archers had a chance to bag one of the top two seeds. They were one of the hottest teams in the league. Two games later, they are fighting for their life, although they still control their fate.
I wouldn't count them out just yet. This team has championship pedigree and a lot of pride. However, I wouldn't put it past them that they are concerned after these two consecutive losses.
Despite the blowout loss to Ateneo, UST still had a very good season
I'd say that 99 percent of people figured the Growling Tigers would be cellar-dwellers once more. If one based that assumption during the summer games, that would be a fair assessment. But we had the good fortune of seeing them outside the summer games when they had Steve Akomo back and Germy Mahinay in uniform. And while not exactly, earth-shaking, they looked better.
It didn't help that Mario Bonleon was a non-factor buried on the bench while Ken Zamora bombed out in his UAAP debut. Then Akomo went down and while UST did play better, but asking them to go farther than were they were without the Big Fella was a stretch.
Nevertheless, it is a very good season for UST. At one point, they were fourth in the league until they lost they last several games. At 5-9? Not bad. Much better than 3-10 NU and 1-12 UE (both latter teams have one last game to play before their season is done) which were figured to do better.
It will be tough because of the injury to CJ Cansino and there is not telling if he will be ready come UAAP Season 82. But at least now, Ayo has five months to prepare before the summer leagues tip off.