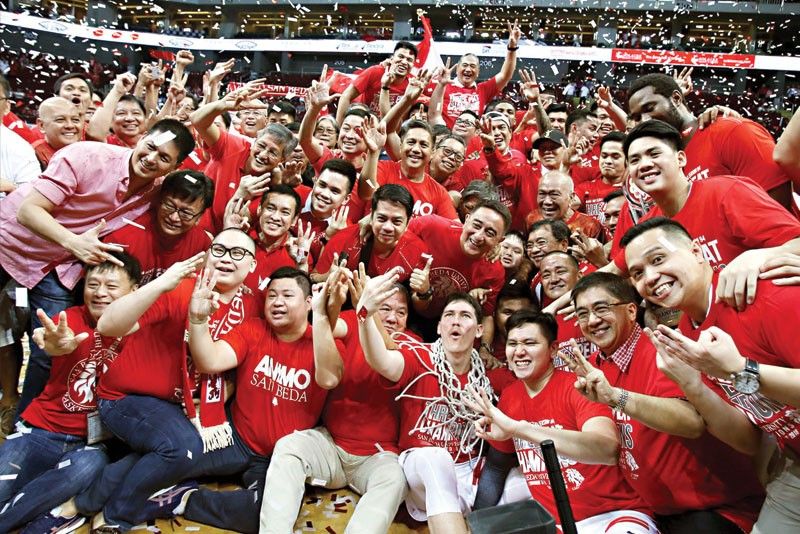 The San Beda Red Lions celebrate after winning the crown over the Lyceum Pirates in Game 2 of the best-of-three-title series in the National Collegiate Athletic Association basketball tournament yesterday at the Mall of Asia Arena.
Joey Mendoza
Twas the night the Lions roared again
Joey Villar
(The Philippine Star) - November 13, 2018 - 12:00am
MANILA, Philippines — San Beda put in an overpowering show like a pride of hungry lions, defending its turf with a roaring start and smashing finish to claim a three-peat with a 71-56 conquest of Lyceum of the Philippines University that came in full force with its suspended superstar last night at the Mall of Asia.
The Lions were just too unforgiving as they smashed the Pirates with or without the latter's best player – CJ Perez.
They took Game One, 73-60, without Perez, who served a one-game suspension for failing to inform the league of his PBA draft application, and was even more emphatic in Game Two upon the return of the 2017 MVP.
"The mantra was to beat LPU with CJ (Perez) there and they showed it today (yesterday)," said San Beda coach Boyet Fernandez, who has now won a total of four championships. "It's not San Beda's fault that CJ was suspended, I hope they give credit to the players and coaching staff because they really deserve it."
The win completed San Beda's three-peat feat and its 11th championship in a dream 13 straight finals appearance.
It also underscored San Beda's dominance of the league as it has hiked its championship total to 22, the most by any school that joined the country's oldest collegiate league, with Letran coming in as the closest with 17 crowns.
Interestingly, San Beda has won 11 crowns in the last 13 years to tie the first 11 it won in the league's first 81 seasons.
Up by just four points, 51-47, with still over eight minutes left in the game, San Beda went on a three-point barrage and scored on put backs on a number of occasions that fueled a big run that saw them lead by as many as 20 points.
The Lions were already celebrating with a couple of minutes remaining before they went on full celebration when, finally, confetti fell.
It was a game that saw a lot of heroes.
There was Javee Mocon, who had 16 points, 11 rebounds and five blocks to emerge the Finals MVP.
Donald Tankoua, last year's Finals MVP, played the full 40 minutes and ended up with 13 points, 16 boards and a block while Robert Bolick played decoy the whole game and dished out a game-high 12 assists on top of four points and the same number of boards.
Clint Doliguez had his moments in the fourth and finished with 14 points including three booming triples.
Perez led all scorers with 19 points but LPU was worse on this one, scoring much less than what it scored in the opener.
Earlier, Mapua downed La Salle-Greenhills, 85-76, to force a deciding Game Three on Thursday at the same venue.
The scores:
San Beda 71 – Mocon 16, Doliguez 14, Tankoua 13, Kwekuteye 9, Soberano 8, Oftana 5, Bolick 4, Presbitero 2, Abuda 0, Cabanag 0.
Lyceum 56 – Perez 19, Jc. Marcelino 13, Nzeusseu 11, Pretta 5, Ayaay 4, Caduyac 2, Serrano 2, Yong 0.
Quarterscores: 23-15, 39-33, 49-44, 71-56.