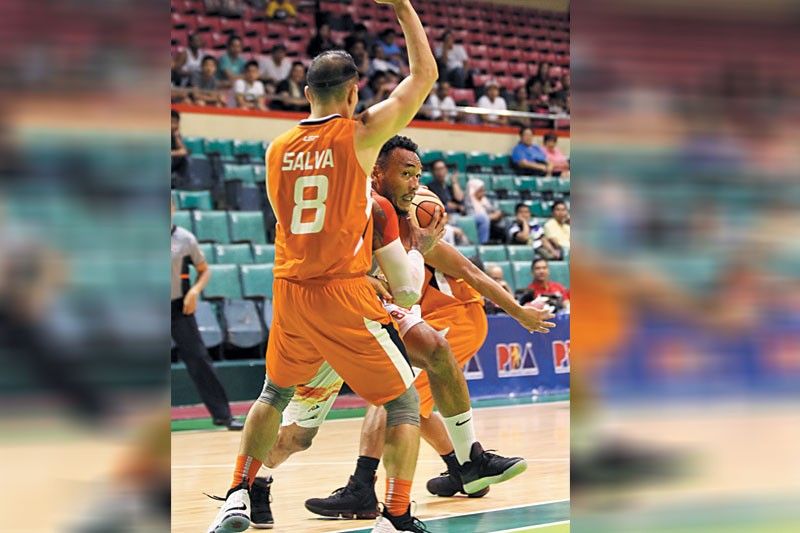 Phoenix Petroleum's Calvin Abueva looks for a way out of a Meralco double-teaming defense in their game Wednesday. The Bolts prevailed, 90-74.
Jun Mendoza
It's semis or bust for Bolts, Fuel Masters
MANILA, Philippines — Meralco and Phoenix Petroleum slug it out in a knockout setto tonight to determine which of them is joining elite teams Barangay Ginebra, Magnolia and Alaska Milk in the PBA Governors Cup Final Four.
The Bolts and the Fuel Masters clash at 7 p.m. at the Smart Araneta Coliseum, with the winner to be odd one out in the company of distinguished squads in the semifinals.
For Ginebra, Magnolia and Alaska all boast of a haul of at least 11 championships each. Meanwhile, the Bolts have been to the PBA finals twice but yet to win a crown while the Fuel Masters are just in pursuit of a first-ever semifinals stint.
Both chase a breakthrough feat in their do-or-die setto where the winner advances to the best-of-five semifinals against the Aces as the Kings and the Hotshots face off in the other semis matchup – their first after their best-of-seven semis clash in the 2017 Philippine Cup that went to the full distance.
"We are expecting to see a very aggressive Phoenix team as it's winner takes all," said Meralco coach Norman Black, hoping to complete a reversal in this quarter matchup where they're the underdog as the seventh seed.
The Bolts have put themselves in equal footing with the Fuel Masters following a clinical 90-74 victory Wednesday that stoked the fire of their hot chase from late in the elims.
The Fuel Masters lorded it over in rebounding 67-53 but couldn't shoot straight Wednesday night.
"We must rebound better and match and surpass their energy level to come out on top," said Black.
There's no doubt the Bolts will be coming in with a mindset to play tough defense as they've been doing in their searing charge.
Meralco clamped down on Phoenix Wednesday.