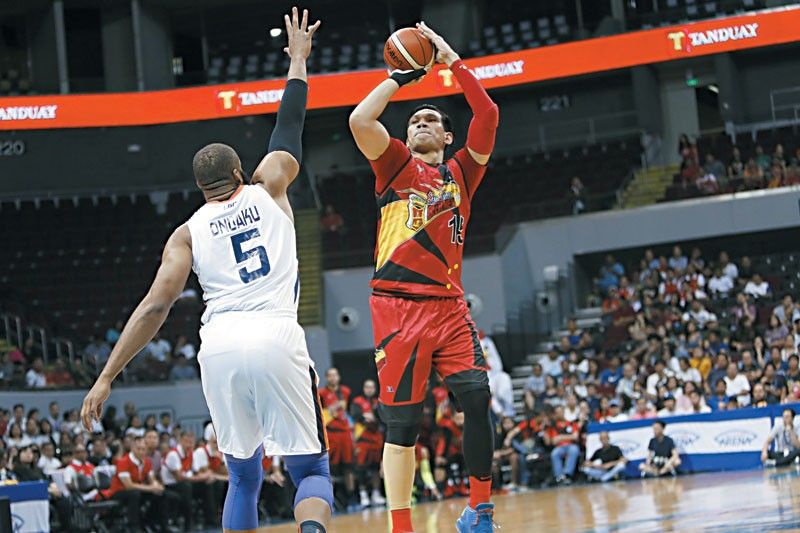 Fajardo has done enough to be MVP?
MANILA, Philippines — Will two BPC plums, a championship and a runner-up finish in the first two conferences be enough reason for June Mar Fajardo to claim the MVP award?
This is a question that has popped up as NorthPort star guard Stanley Pringle jumped past Fajardo in the stats race of the MVP derby through the elims of the season-ending PBA Governors Cup.
Fajardo has no more chance to recover the lead in the stats race since San Miguel has been eliminated by Alaska Milk in their quarterfinals matchup.
Thus, the 6-foot-10 Cebuano behemoth, limited to three games in the last conference due to an injury, will have to bank on the balloting to salvage the coveted honors and be the first five-time MVP winner in the local pro league.
Pringle, the 2015 Rookie of the Year awardee, zoomed to the top in the stats race with a cumulative average of 35.5 points, relegating Fajardo down to second with 33.2.
The NorthPort star player, however, had no playoff success all season long.
Ginebra's Japeth Aguilar is at third with 32.9, NorthPort's Sean Anthony is at fourth with 31.3 and another Ginebra player Scottie Thompson rounds out the Top Five with 30.8.
The next five are Phoenix Petroleum's Matthew Wright (30.6), three SMB stars in Alex Cabagnot (30.2), Arwind Santos (30.0), Marcio Lassiter (29.9) and Alaska Milk new main man Vic Manuel (29.0).