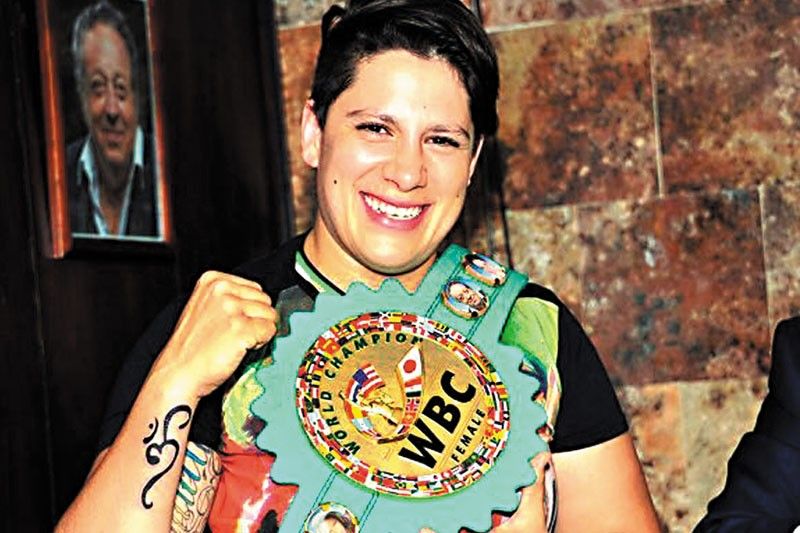 Alejandra Jimenez
I.DEPORTES.TELEVISA.COM
9 world champs coming to town
MANILA, Philippines — No less than nine reigning world champions are attending the third WBC Women's Convention and WBC Asian Summit set at the Philippine International Convention Center on Nov. 17-19 with the organizing Games and Amusement Board (GAB), headed by chairman Abraham Mitra, laying out the red carpet for some 500 delegates from over 17 countries.
The reigning WBC women's titlists in GAB's guest list are undefeated heavyweight Alejandra Jimenez of Mexico, supermiddleweight Franchon Crews of the US, middleweight Christina Hammer of Germany, featherweight Jelena Mrdjenovich of Canada, superbantamweight Fatuma Zarika of Kenya, bantamweight Mariana Juarez of Mexico, lightflyweight Yesenia Gomez of Mexico, unbeaten atomweight (102-pound limit) Fabiana Bytyqi of the Czech Republic and atomweight (interim) Brenda Flores of Mexico.
Former WBC superwelterweight champion Mia St. John, who was featured in an 11-page Playboy pictorial in 1999, is also arriving. St. John, 51, won the WBC crown at the age of 45 in 2012 and retired from the ring in 2016 with a pro record of 49-14-2, including 19 KOs. Known as "The Knockout," St. John earned a psychology degree at California State Northridge and posted a 27-1 record in taekwondo.
WBC president Mauricio Sulaiman's wife and WBC Cares chairperson for Mexico Christiane Manzur will deliver the keynote address at the General Assembly on Nov. 17. WBC Women's Championship Committee chairperson Malte Mueller Michaelis and WBC Cares International chairperson Jill Diamond will also speak to kick off the two-day formal proceedings.
The women's assembly was initially slated to be held in Culiacan, Mexico but at the WBC Convention in Kiev, Ukraine, last month, Mitra offered Manila to host and the WBC accepted. Manila was the site of the WBC Convention in 1967 when two Filipinos headed the body, Justiniano Montano Jr. as president and Atty. Rudy Salud as secretary-general. It was Salud who authored the WBC Constitution and By-Laws ratified during the 1967 Convention and it was also Salud who appointed Jose Sulaiman as deputy secretary-general in 1968. Sulaiman eventually became WBC president and now, his son Mauricio heads the organization. Manila also hosted the WBC Convention in 1970 and 2007.
Mitra's leadership was recognized when the WBC cited GAB as Commission of the Year at the WBC Convention in Baku last year. Mitra serves as the WBC's international secretary and sits in the WBC Board of Governors. The coming convention promotes not only Philippine boxing but also the country as a tourist destination. While in Manila, WBC Cares officials will give a donation to an orphanage. Mitra has also arranged for a tour of Corregidor for the delegates and a boxing/muay card dubbed "The Big Challenge" on Nov. 18. The six-fight card, assembled by promoter Brico Santig, will feature WBC Silver supermiddleweight titlist Azizbek Abdugofurov of Uzbekistan staking his crown against Chinese challenger Wuzhati Nuerlang in the 12-round main event.
Key GAB officials involved in organizing the affair are Mitra, commissioners Mario Masanguid and Eduard Trinidad, head of finance/administration Ofie Retardo and boxing chief Jun Bautista.
A highlight of the event is the Gala Dinner and Awards Night on Nov. 17 where OPBF president Tsuyoshi Yasukochi of Japan and WBC Asian Boxing Council and WBC Muay Thai president Gen. Khovid Bhakdibhumi of Thailand will deliver messages. Awards will be given posthumously to Montano, Salud, Boxing Hall of Fame promoter Papa Sarreal, GAB chairman Luis Tabuena and former WBC champions Flash Elorde and Pedro Adigue. Former GAB chairmen Juan Ramon Guanzon, Eric Buhain, Eduardo Villanueva, Dominador Cepeda, Francisco Sumulong and Alberto Antonio will be cited with former WBC titleholders Rene Barrientos, Erbito Salavarria, Rolando Navarrete, Frank Cedeno, Luisito Espinosa, Rolando Pascua, Gerry Penalosa, Manny Pacquiao, Malcolm Tunacao, Brian Viloria, Rodel Mayol, Nonito Donaire and Sonny Boy Jaro. Meetings, seminars for judges, referees and trainers, clinics and a medical lecture will be held during the convention.