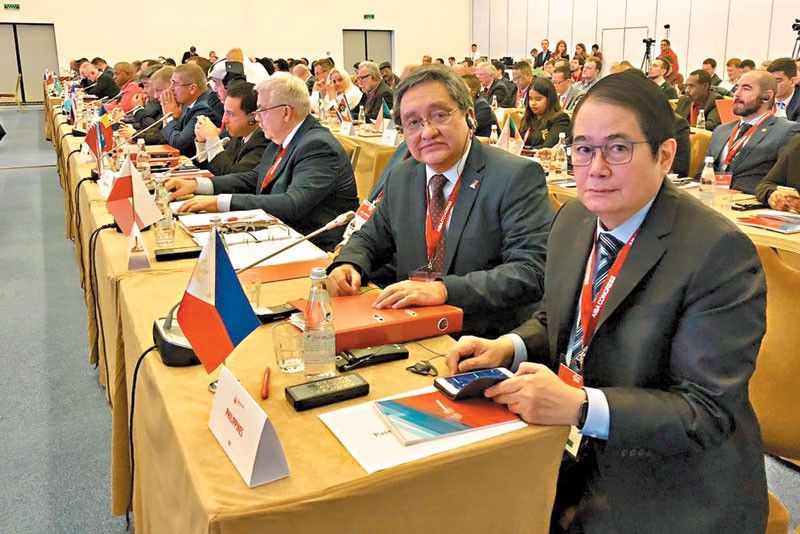 POC-ABAP president Ricky Vargas (right) and POC communications director- ABAP secretary-general Ed Picson at the AIBA World Congress in Moscow.
Business as usual at ABAP
MANILA, Philippines — Even as boxing is under threat of expulsion from the Olympic calendar, there is no stopping the training of Filipino fighters hoping for a chance to qualify for the 2020 Tokyo Games.
ABAP secretary-general Ed Picson said yesterday it's business as usual despite the IOC expressing displeasure over the election of Uzbek suspected underworld lord Gafur Rahimov as AIBA president at the recent AIBA World Congress in Moscow. Rahimov pulled in 86 out of 134 votes in the polls that were conducted with paper ballots placed in a cardboard box after a plan to use an electronic system was abandoned because of a glitch. Writer Lewis Watson said "all professionalism was drained from the event, replicating a high school's vote for prom king and queen." There were conflicting reports on how many votes Rahimov garnered. One report mentioned 86, another 84 but it was clear Rahimov outvoted the only other contender Serik Konakbayev of Kazakhstan.
Before the elections, Rahimov announced he would willingly step down from the presidency, if voted, and take a leave of absence to allay the IOC's fears of tainting the organization with his leadership. But Rahimov set conditions for his leave, including the freedom to choose who would sit in as president and his continued participation in the Executive Committee. The AIBA assembly took a vote on Rahimov's proposal and turned it down. Now that Rahimov has been elected president, he may opt to step down but under AIBA rules, he will lose his seat in the Executive Committee and the longest-serving vice president will be his interim successor.
Rahimov, who used to be on Interpol's criminal watch list, vowed to clear his name as two high-powered law firms in Washington, D. C. and London are feverishly working to assure the IOC of his integrity. Rahimov and other elected AIBA officials were not provided credentials by the IOC to attend the recent Youth Olympics in Buenos Aires as the boxing competitions were held with AIBA executive director Tom Virgets of the US supervising the proceedings, employing AIBA-certified referees and judges. Unlike in the last Asian Games where seven of Rahimov's countrymen made it to seven men's boxing finals, Uzbekistan finished with one gold and two bronzes at the Youth Olympics where the 13 gold medalists came from eight countries.
POC/ABAP president Ricky Vargas and Picson represented the Philippines at the AIBA World Congress in the Radisson Royal Hotel. They met with Rahimov in a private audience and were assured that boxing would not be struck out of the Olympic calendar. In the meeting, Rahimov reiterated his proposal to step down temporarily while he clears his name to give in to the IOC. There was talk that the IOC may delist AIBA as an international federation affiliate and create a new boxing body with a fresh set of officers. Konakbayev has reportedly gone to Lausanne to confer with IOC officials on the possibility. However, the IOC's authority to dismantle AIBA, which is an autonomous organization, may be questioned before the Court of Arbitration for Sport.
At the same World Congress, Anas Al Otaiba of the United Arab Emirates won the presidency of the Asian Boxing Confederation (ASBC), outpolling Thailand's Pichai Chunavajira. "Mr. Al Otaiba's a good friend of Philippine boxing," said Picson. "Two years ago, Mr. Vargas and I were in the same car that Mr. Al Otaiba himself drove from Geneva to Montreaux to attend the AIBA Extraordinary Congress. We embraced Mr. Al Otaiba after the elections and pledged to support his administration."
Picson said he's confident that boxing will remain in the Olympic menu. "We're proceeding on the assumption boxing will be in the Tokyo Games," he said. "We've got five fighters competing in the AIBA World Women's Championships in Delhi on Nov. 15-24 and we'll be ready for the coming Olympic qualifiers, both men and women." The plan for boxing in Tokyo is to reduce the men's divisions from 10 to 8 and increase the women's divisions from 3 to 5.