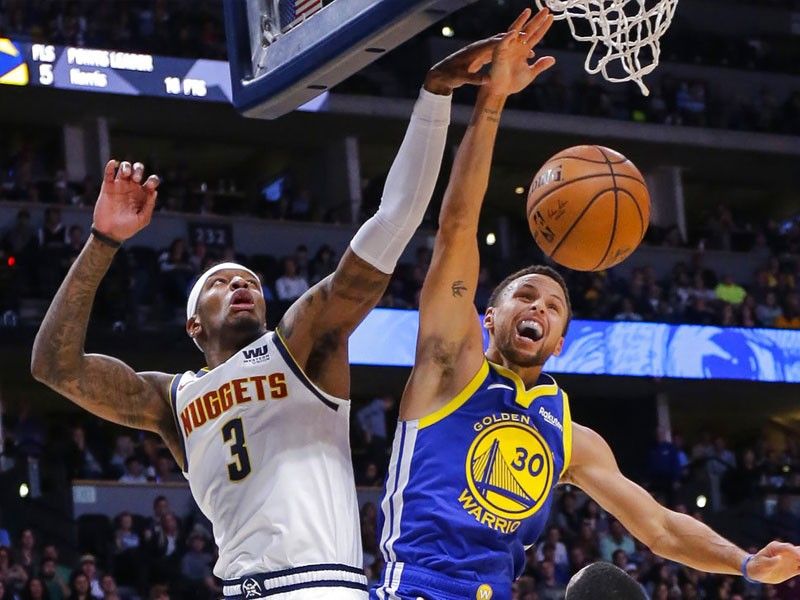 Denver Nuggets forward Torrey Craig (3) blocks a shot by Golden State Warriors guard Stephen Curry (30) during the second quarter of an NBA basketball game, Sunday, Oct. 21, 2018, in Denver.
AP/Jack Dempsey
Nuggets hold off Warriors
(Associated Press) - October 22, 2018 - 12:10pm
DENVER — Gary Harris scored 28 points, Juancho Hernangomez blocked a tying layup just before the buzzer and the Denver Nuggets beat the Golden State Warriors, 100-98, on Sunday night (Monday Manila time).
Trailing by 13 points in the fourth quarter, the Warriors rallied and had a chance to tie it in the waning seconds. Stephen Curry drove down the lane and passed to big man Damian Jones, who had his shot blocked from behind by Hernangomez.
The Nuggets improved to 3-0 despite missing 18 free throws, including six in the final quarter.
Nikola Jokic had 23 points, 11 rebounds and six assist in his bid for a triple-double on a second straight night.
The 3-0 start is Denver's best since the 2009-10 squad led by Carmelo Anthony and Chauncey Billups began 5-0. This victory was driven by defense. Denver was sluggish in the second game of a back-to-back but turned up the defensive intensity. The Nuggets forced 18 turnovers.
No surprise, Curry hit three straight 3-pointers in a 1:11 span to lead the comeback. He finished with 30 points and had six 3-pointers to move him past Paul Pierce for sixth place on the NBA's career list.
Draymond Green had a chance to tie the game at 99-all with 9.6 seconds remaining, but his second free throw rolled out. Jamal Murray made one of two free throws on the other end to make it 100-98 and set the stage for Hernangomez.