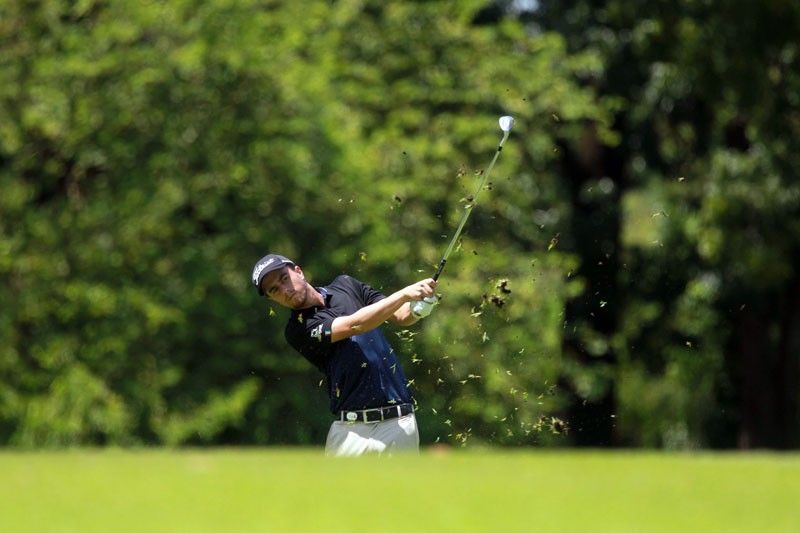 Peter Stojanovski turns from hunter to being hunted in the final round.
Peter Stojanovski moves ahead as Jay Bayron, Clyde Mondilla waver
TARLAC, Philippines — Reduced to a virtual spectator in a three-player battle majority of the way, Peter Stojanovski kept going then kept the birdies coming to sneak past Jay Bayron and Clyde Mondilla and zero in on a dream Philippine Golf Tour crown.
The Macedonian watched the Filipino top guns slug it out from tee-off and trade birdies and bogeys and emerged the new leader in as many days with a bogey-free 68 for a one-stroke lead after three rounds of the ICTSI Luisita Invitational here yesterday.
Stojanovski also cashed in on the local aces' fumbling finish on the treacherous No. 17 to grab the lead at 14-under 202 as Bayron double-bogeyed the water-laced par-3 hole and settled for a 72 and Mondilla stumbled with a missed-green bogey for a 70 for identical 203s heading to the final 18 holes of the P4 million finale of this year's PGT.
Though no lead is safe at demanding par-72 Luisita layout, the battle for the top P750,000 purse is reduced to the top three with Aussie Tim Stewart lying five strokes behind at 207 after a 69 and Tony Lascuña a stroke farther back at 208, also after a three-under card.
"I played a solid game even it's very hot," said Stojanovski, whose best finish in his three-year local stint was joint third in the PGT Asia Aboitiz Invitational at The Orchard last month.
Despite a two-under card after 10 holes, he remained behind the Filipino bets but tied Mondilla at second and moved within one off Bayron with back-to-back birdies from No. 15 inside 15 feet.
With Bayron dumping his 4-iron tee-shot into the water on the 214-yard 17th and Mondilla failing to go up-and-down, Stojanovski parred the last two holes to finally move on top.
"A win is very important since I am playing here for quite sometime now. I think it's long overdue," said Stojanovski, who also considers the challenging Luisita layout his favorite where he hopes to shoot a 68 or 69 in today's final round to nail the elusive win.
But expect Bayron and Mondilla to bounce back strong, extend Stojanovski's winless campaign while snapping their respective slumps.
Bayron, who took charge by two with a 66 halfway through the P4 million event, blew a two-stroke edge as Mondilla regained the lead with early birdies but surged ahead again with birdies on Nos. 10 and 15, only to tumble with a double-bogey on the 17th.
Mondilla, who fired a lead-grabbing, record-setting 64 Tuesday, charged back to the lead with a 33 start but bogeyed No. 10, tied Bayron again with a birdie on No. 15 but fell behind with a late bogey that typified the Filipino aces' shaky finish in sweltering heat. He finished with a 70, missing joining Stojanovski at the helm with a flubbed birdie putt from six feet on the final hole.
"I misread my line of putt. I could've tied for the lead," rued Mondilla, winless in the season after scoring four victories last year to clinch the OOM title.
Aussie Tim Stewart also holed out with a bogey for a 69 and fell five shots off Stojanovski at 207 while Tony Lascuña pressed his bid with three straight birdies from No. 2 but made three bogeys against the same number of birdies in the last 14 holes. He wound up with a 69 for a 208.
Zanieboy Gialon settled for a 72 and a 210, Arnold Villacencio shot a 71 to tie Reymon Jaraula, who hobbled with a 73, at 211 while Gerald Rosales and Mhark Fernando fired identical 70s to join six others at 212, including American Lexus Keoninh (71), Joenard Rates (73), Nilo Salahog (73), Japanese Issei Mori (74), Jhonnel Ababa (76) and this year's Order of Merit leader Jobim Carlos (71).