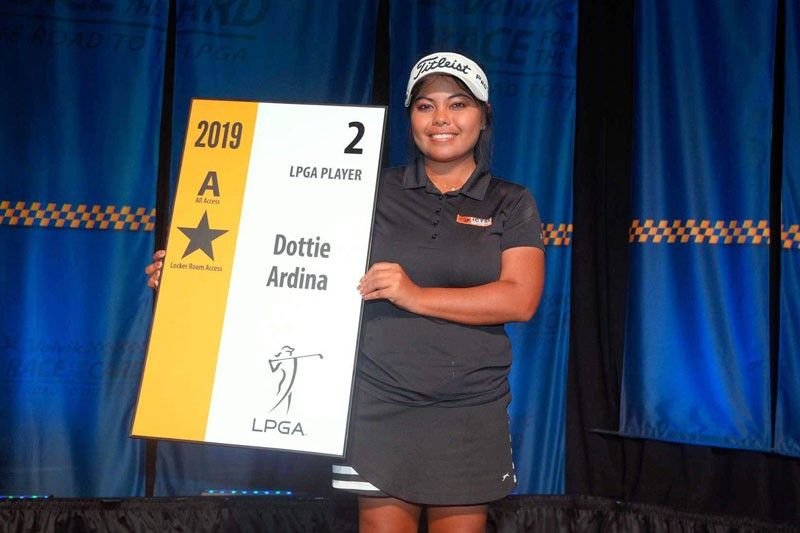 Dottie Ardina
www.symetratour.com/volvik-race-for-the-card
Doting Dottie; 2nd best rarin' to be LPGA's best
MANILA, Philippines — It was a fortnight of the best in world golf.
There was the amazing comeback of Tiger Woods in the Tour Championship in Atlanta with a roaring crowd surging to get vantage view of his final putt.
Then there was Team Europe extending the woes of Team USA in the Ryder Cup duel in France with a decisive finish that had all the thrills of a rambunctious finale of a European league football match.
This came about as the Symetra Tour of women's pro golf was about to bring its curtains down on a successful season with the Symetra Tour Championship in the private confines of a North Dakota layout.
And adding gravy to the cutthroat competition was the Volvik Race for the (LPGA) Card with the Top 10 finishers being given full card for the 2019 LPGA Tour season.
And the first one to secure a card was Filipina Dottie Ardina, nailing a ticket to the lucrative women's tour by lording it over the high powered field for its entire run until she yielded the No. 1 post to Chinese Ruixin Liu on the very last leg of the circuit.
"Mission accomplished," posted Dottie, 25, on facebook following her second place finish in the Volvik Race, fulfilling a long cherished dream of going full time in the premier league nurtured in an old nine-hole course in a small town of Canlubang.
From that quaint compact layout came a father-daughter partnership forged through their passion for the game when she could barely swing a pitching wedge. She would emerge in the jungolf consciousness as a 6-year-old phenom in a tournament in Cangolf and went on to make her mark in the national, regional and eventually in the annual blue-ribbon Junior World in San Diego.
She did it all through sheer love and dedication to the game and through the doggedness of her father Ed, a teaching pro who went out of his way to look for sponsors and backers so the daughter could sustain her march to prominence and recognition. Among her supporters were ICTSI main man Ricky Razon who sent the young Dottie to learn the finer points of the game in the Leadbetter Academy in Florida and sportsman-businessman Coy Quiros, who saw the immense potential in the little girl.
That eventually led to a pro career that started in 2013, made a so-so start in 2014 in the Symetra Tour until she made a shattering impact in the recently concluded season of the LPGA farm league where she finished runner-up five times in 19 starts with four missed cuts.
It was an amazing turnaround for the scrappy Filipina, whose single season high earnings of over $97,000 was more than her total earnings in her first four years in the US developmental league.
"When I decided to go on Symetra full time, I set a personal goal of six figures. The tour this year is filled with a lot of great players who can play on the LPGA level," said Dottie. "It means a lot to me. I made a tough decision to withdraw from LPGA events that I was eligible to play in. I think I really made a good decision to stay and get my full card for next year (15 events).
Now it's on to the LPGA where Dottie is expected to face the cream of the world's women's pro golf and do better as an accomplished player with a wondrous putting touch and an unwavering faith in her game plus mental toughness developed through years of training, tests and challenges from a demanding father.
"My dad has always been there for me. He taught me how to be tough and lots of hard determination since when I was 5-6 years old. All his screaming/yelling while teaching me helped me a lot to get a strong mental game," said Dottie, adding that she drew wisdom from what her father said: "Golf is a never-ending lesson that even Tiger Woods struggle in the game. Keep working hard and it will pay off."
It did pay off.
In the last Symetra Tour, she was under-par 30 times with a record 63 at the Alaqua Country Club in Longwood, Florida and ranked second in putts per green-in-regulation and putting average and in scoring average (70.10), capping her impressive season by finishing second in earnings ($97,822).
She was so consistent that she was the first to claim the LPGA full card with four tournaments left on the Symetra Tour, nailing the Symetra Swift Award for being No. 1 in the Volvik Race for the Card at the halfway point of the season. And she's bringing her splendid form when the season begins next year, brimming with a high-level of confidence for the big time.
"Grabe, dugo't pawis. It's been a long journey. After five years, I finally got my full card and I dedicate this success to my parents who never stopped giving me inspiration, love and support," posted Dottie in Facebook.