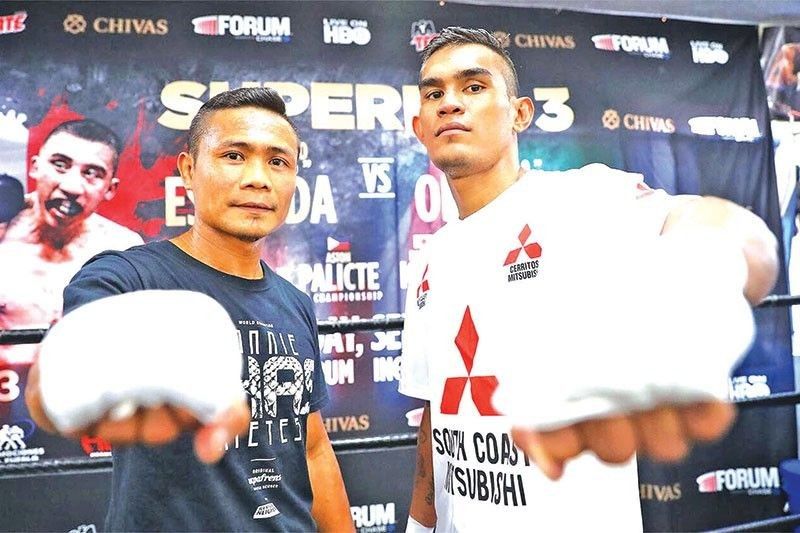 Nietes is ranked No. 1 and Palicte No. 2 by the WBO in the 115-pound division. "No formal word yet from the WBO," said Aldeguer. "Hopefully, during the convention, everything will be finalized."
File
Donnie Nietes, Aston Palicte await WBO advice
MANILA, Philippines — ALA Boxing president Michael Aldeguer said yesterday he hopes a decision on how to resolve the impasse in the superflyweight division will be made during the WBO convention in Panama on Oct. 29-Nov. 2 after two Filipinos, Donnie Nietes and Aston Palicte, fought to a split 12-round draw to keep the throne vacant at the Forum in Inglewood last month.
Nietes is ranked No. 1 and Palicte No. 2 by the WBO in the 115-pound division. "No formal word yet from the WBO," said Aldeguer. "Hopefully, during the convention, everything will be finalized."
Since there is no closure on the Nietes-Palicte matchup, a rematch is likely but it may be postponed to give way to Japan's Kazuto Ioka who was impressive in outpointing Puerto Rico's McWilliams Arroyo in the Forum undercard. The rumor is the WBO may sanction a duel between Nietes and Ioka for the vacant crown on condition the winner faces Palicte in his first defense.
Nietes' trainer Edito Villamor said the ALA camp will abide by whatever is the WBO's decision but if Ioka is the opponent, the fight should be in a neutral country like the US. "I don't think it should be in Japan or the Philippines," said Villamor. "Donnie's fighting for legacy. He wants a fourth world title. It got a little delayed with the draw."
Both Ioka and Nietes are former three-division world champions chasing their fourth crown. Nietes, 36, has held the WBO minimumweight, WBO lightflyweight and IBF flyweight titles while Ioka, 29, was the WBC minimumweight, WBA lightflyweight and WBA/IBF flyweight champion. Nietes' record is 41-1-5, with 23 KOs and Ioka's is 23-1, with 13 KOs. Ioka had announced his retirement last December after a falling out with his father and trainer Kazunori over his marriage to Japanese pop singer Nana Tanimura. But Ioka "un-retired" to beat Arroyo and set himself up for a showdown with Nietes.
Even as a Nietes-Ioka fight looms in the horizon, Palicte, 27, isn't out of the title picture. His manager Jason Soong said like Aldeguer, he's waiting for the WBO's decision. Soong said his partners Roy Jones, Keith Veltre and matchmaker Guy Taylor will attend the WBO convention to represent Palicte. "Our ranking is still No. 2," said Soong. "We still plan to challenge for the belt. The WBO convention is later this month and my partners are going to be there so we'll probably hear more after."
Soong said he thought Palicte did enough to win the decision over Nietes. "Aston executed a lot of what he trained for but also Nietes didn't try to fight inside which is what we expected him to do," said Soong. "I had Aston ahead by two if you break down the rounds by the minute. But out of all the draw decisions, I feel like it was fair. Those that don't understand boxing just see the 12th round but that's just one round and Aston didn't get knocked down."
Nietes wobbled Palicte in the 12th round and Villamor said he would've scored a knockout if there was one more minute in the fight. Judge Danny Sandoval scored it 118-110 for Nietes and judge Robert Hoyle, 116-112 for Palicte while judge Max DeLuca had it 114-114. CompuBox stats showed Palicte threw more punches, 830 to Nietes' 523 but Nietes landed more, 194 to 124.
"I think there will be a mandatory rematch," said Soong. "Hopefully, in the US again. In the rematch, we just need to tweak some things. Aston had zero welts on his face after the fight. Aston got into trouble in the last round. I believe any other boxer who wasn't in good shape would've gone down but he was able to escape that." Palicte called Nietes "a great champion" but even as he was staggered in the last round, thought he deserved the decision. Nietes said he was never hurt but felt Palicte's power while blocking punches with his arms.