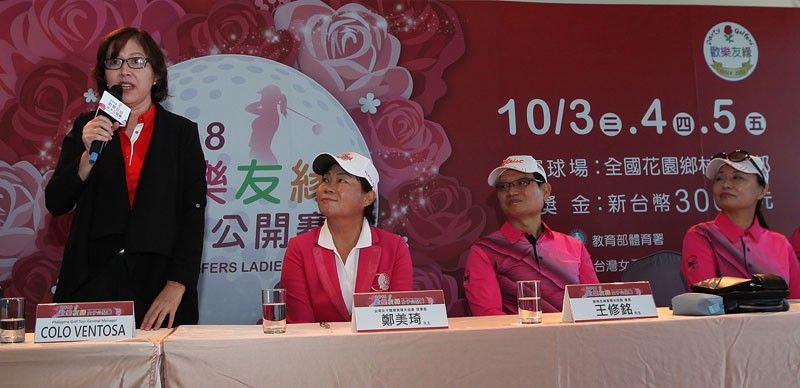 Colo Ventosa, general manager of Pilipinas Golf Tournaments, Inc., which organizes the Ladies PGT, reaffirms the country's commitment to boost ladies pro golf in the region during the press launch of the Party Golfers Ladies Open, the first LPGT-sanctioned tournament in Taiwan Tuesday.
Pinays upbeat as 1st LPGT golf unwraps in Taiwan
(Philstar.com) - October 2, 2018 - 4:34pm
TAIWAN – The Ladies Philippine Golf Tour unveils its first co-sanctioned tournament abroad through the Party Golfers Ladies Open starting Wednesday at the National Golf Country Club in Miaoli County here, kicking LPGT's foray in the international golfing stage offering rich money purses and featuring the best players and rising stars in the region.
"I'm very excited to be out of the country and playing against elite golfers in Asia. Looking forward to a fun-filled week here and hopefully come home with a win," said one-time LPGA Tour campaigner Cyna Rodriguez.
The former three-time LPGT Order of Merit winner heads a five-player Philippine crew in the $100,000 event co-sanctioned by the LPGT and Taiwan LPGA Tour, upbeat but wary of her chances against a crack international field on a windy, mountain-top course with winding but wide fairways and unpredictable putting surface.
"It's actually short with reachable par-5s but could be play tough with the wind," said Daniella Uy, the former Junior World champion seeking a big finish in her fourth pro tournament against the big guns of the TLPGA Tour, including the circuit's top six players.
The stellar field also includes TLPGA No. 2, Hsin Lee, third ranked Szu-Han Chen, No. 4 Min-Jou Chen, fifth ranked Yi-Chen Lio and No. 6 China Huang with LPGT leg winners Thais Renuka Suksukont, Wannasiri Sirisampant, Onkanok Soisuwan and Yupaporn Kawinpakorn toughening up the field in what promises to be an explosive start in LPGT's first international sortie held as part of Pilipinas Golf Tournaments, Inc.'s effort to advance the growth of the Philippine ladies pro golf.

Meanwhile, PGTI general manager Colo Ventosa said the LPGT and TLPGA will also share the prize money when they co-stage the ICTSI Ladies Philippine Masters in February.
Princess Superal also hopes to get into the mix right in the opener of the 54-hole championship with the former US Girls Junior champion figuring in an early clash with LPGT leg winner Ploychompoo Wilairungrueng of Thailand and Minami Levonowich of the US at 8:10 a.m. on No. 1
Rodriguez, out to snap a long title spell, is also in for a tough start as she slugs it out with Thai ace Supamas Sangchan, who placed second but took the crown in last week's Kenda Tire TLPGA Open won by amateur Hsin-Yu Lu, and Japanese Rino Kotake at 7:50 a.m., also on the first hole.
Focus will also be on Mia Piccio, who has taken time out from her Symetra Tour campaign to compete in the LPGT and TLPGA tournaments starting this week. She drew another LPGT leg champion in Saranporn Langkulgasettrin and Taiwan's No. 5 Babe Liu in another stellar group at 8:10 a.m.
Also eyeing a strong start is Marvi Monsalve, who tied for 24th in the TLPGA and Royal Open won by current Taiwan top player Yu Ju Chen two weeks ago. She will play alongside Mei Chu Chang of Taiwan and Thai Saruttaya Ngam-usawan, another former LPGT leg winner starting at 8:20 a.m. on No. 10.
Uy, 21, tees off next at 8:30 a.m. in the company of local ace Hanna Chen and Ai Asano of Japan.