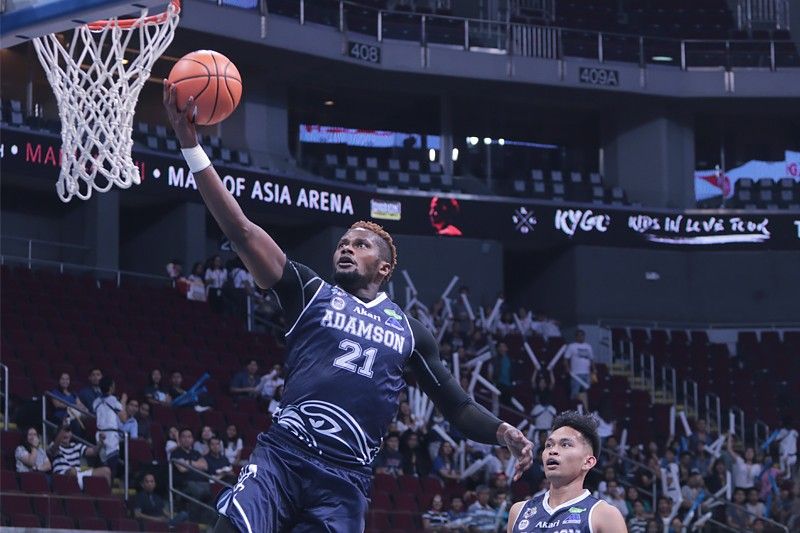 Papi Sarr had another monstrous game with 21 rebounds and 15 points for Adamson.
Philstar.com/Kat Leandicho
4 points from Wednesday's UAAP hoops action
MANILA, Philippines – After a weekend without UAAP basketball, the games were a sight for sore eyes. Well, maybe not the blowout in the first game. But there's a lot to glean from both matches.
That was a big win for Adamson
Another game, another win for the now 2-0 Adamson Soaring Falcons — a 90-76 blowout of UE.
Sean Manganti arguably had his best game in an Adamson jersey while backed-stopped by Jerrick Ahanmisi and Papi Sarr, who had another monstrous game (21 rebounds 15 points). Another great sign was that the other veterans in Simon Camacho played (8 points and 10 rebounds) and Jonathan Espeleta (8 points) played well. This is exactly what Franz Pumaren needs — for his vets to play this way — to lead their team as their rookies didn't do much.
But you know how big this was?
Adamson was supposed to play La Salle last Saturday, and you know that was going to be a really big game for both teams. But as it was suspended owing to the weather, it helped the Soaring Falcons as they had to deal with a team that is still finding itself.
With every win, Adamson's confidence and belief grows.
That was a damaging loss for UE
Yes, I know this is just the first year, but two consecutive blowout losses really hurt. This early, it is entirely possible that the losses will plant seeds of doubt among the players. They have worked so hard with mixed results over the summer, but they have to realize that this is a process. Yet, double-digit whammies do not help.
As we said in our last analysis of their loss to UP, the other players expected to play big didn't.
Okay, Chris Conner was in foul trouble and played five minutes (one foul for every minute he was in the game). Jojo Antiporda didn't get the job done, but as much as we like his potential to be a stud for this team, give him a pass because he is a rookie. Shannen Gagate and Philip Manalang were underwhelming, and that is an understatement. Philip has really stumbled out of the gates.
Joe Silva needs his starting court general to find his balance to help UE get going.
Granted, the teams they played have foreign players, and their lack of one has hurt them. But they were also killed by the Fil-Ams of Adamson.
Now they face a tough assignment in La Salle this Sunday. It's a big game for UE and a must-win too.
That win says a lot about La Salle's character and potential
An 80-76 win over a much-better National University team? Without Taane Samuel too? Impressive.
They really battled it out and came away with a close and tough win.
I think that Aljun Melecio and Justine Baltazar are forming a nice one-two combination. They were the two players who carried La Salle in the second half of play. Jollo Go played well in the third period, but faltered in the fourth.
And yet, it was a sorely needed win.
NU really needs to work on its endgame
They nearly collapsed against UST and this time around in the second half, Troy Rike missed two free throws that could have given the Bulldogs a 78-76 lead, and an inbound violation killed them.
I have noted last season and even at the start of this season that this is still a young team. They will need at least another season of seasoning to really compete. Dave Ildefonso is the ace in their deck. He makes them so competitive. And he led the team once more in scoring.
But as La Salle showed, you can't be a one-man team. Others need to step up especially in the end game.
Now they face Ateneo this Saturday.