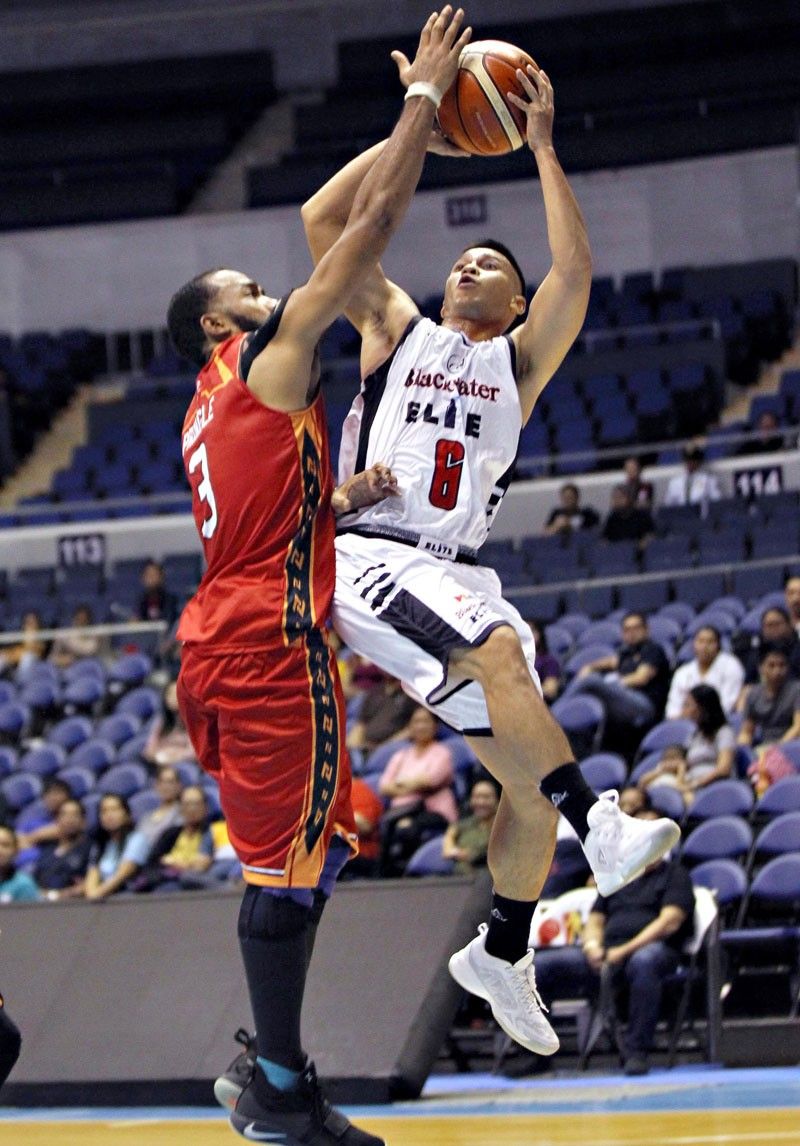 Stanley Pringle of NorthPort blocks a shot by Roi Sumang of Blackwater in their Governors' Cup game last night at the Smart Araneta Coliseum.
Jun Mendoza
Elite eke out win over Batang Pier; Third straight victory
MANILA, Philippines — Blackwater charged back from an 18-point deficit late in the first half and found unlikely heroes in Chris Javier and John Pinto at crunch time as the Elite nipped the NorthPort Batang Pier, 113-111, for a third straight win in the PBA Governors Cup at the Smart Araneta Coliseum last night.
Henry Walker, Mike Digregorio and Poy Erramtook up the cudgels early on before Javier and Pinto seized the moment at endgame as the Elite sustained their amazing streak and tied the Barangay Ginebra Kings ahead of their exciting matchup tomorrow, also at the Big Dome.
It's Blackwater's best start in a conference since joining the league in 2014.
Javier, a sparingly used player since turning pro as the second-round draft selection by Magnolia in 2016, knocked in two big baskets to make it 108-101 for Blackwater with 1:47 left to play.
After the Batang Pier pulled within striking distance again at 105-108, Pinto drilled in a trey with time down to 31.5 seconds, capping a solid all-around game marked by a career-high 13 assists, eight points and seven rebounds.
"When I came in the team, I was telling our coaches that guy (Javier) is a good player pero bakit ganyan ang nilalaro niya. Then I talked to him, telling him 'when I call your name, be ready,'" said Blackwater coach Bong Ramos.
"As for Pinto, he's long been a player you can rely on. He has a big heart," Ramos added.
Pinto's and Javier's heroics preserved the Elite's fightback from 18 points down at 35-53 and the big numbers of Walker (24 points and 15 rebounds), Digregorio (19 markers, six boards and three assists) and Erram (19 points and seven rebounds).
"When we came back from an 18-point deficit, we adjusted to playing with two guards and three bigs. At endgame, I put in Javier. We made adjustments that perhaps surprised NorthPort. They didn't see it in our first two games," said Ramos.
"What's good with our team is we have players that can play multi positions. I can go small; I can go big. We have flexibility," Ramos added.
Later in the night, Phoenix Petroleum opened a 16-point lead on a decisive 11-to-nothing run in the third period and stayed in control until the end as the Fuel Masters ripped the Meralco Bolts, 96-86, to move up to solo fourth place at 4-1.
It was Phoenix's first win over Meralco in import-laden tourneys.
The scores
First Game
Blackwater 113 – Walker 24, DiGregorio 19, Erram 19, Belo 13, Sumang 9, Pinto 8, Zamar 6, Palma 4, Javier 4, Al-Hussaini 3, Maliksi 2, Jose 2.
NorthPort 111 – Woods 31, Pringle 18, Anthony 13, Elorde 12, Araña 9, Tautuaa 8, Taha 6, Grey 5, Guinto 4, Fortuna 3, Espinas 2, Gabayni 0.
Quarterscores: 23-39, 56-59, 79-87, 113-111
Second Game
Phoenix 96 – Phelps 24, Abueva 16, Wright 16, Perkins 13, Chua 9, Revilla 8, Intal 6, Jazul 4, Wilson 0, Mendoza 0.
Meralco 86 – Newsome 18, Durham 16, Lanete 11, Hugnatan 10, Jamito 8, Caram 7, Salva 6, Amer 5, Sedurifa 3, Hodge 2, Canaleta 0, Atkins 0, Faundo 0.
Quarterscores: 21-22, 47-42, 74-63, 96-86