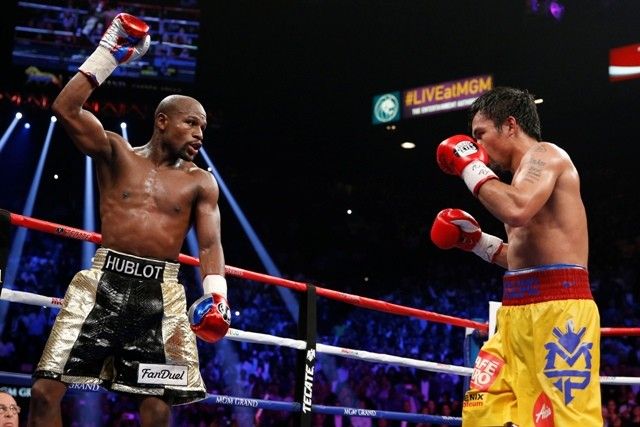 Floyd Mayweather Jr. and Manny Pacquiao during their 2015 fight in Las Vegas.
Associated Press
Mayweather meets Pacquiao in Tokyo, says rematch coming
MANILA, Philippines – Again, accidentally or otherwise, Manny Pacquiao and Floyd Mayweather Jr. bumped into each other, sparking fresh rumors of a rematch between the two boxing legends.
Pacquiao and Mayweather met at an EDM (electronic dance music) concert in Tokyo, Japan Saturday, more than three years after they fought inside the MGM ring.
Mayweather posted a short video clip of the meeting on Instagram, and in minutes it drew over 140,000 views.
"I'm coming back to fight Manny Pacquiao this year," Mayweather wrote.
Pacquiao had previously announced that his next fight will be in December. No venue and no opponent had been named.
There was ribbing between the two groups although Pacquiao and Mayweather, who stood just a few feet from each other, did not get into a actual conversation.
Pacquiao smiled as Mayweather and company trash talked.
"I have the belt, I have the belt," Pacquiao, now the WBA welterweight champion, said while motioning his hands on his waist.
"I want no shoulder excuses," said Mayweather of the injury that Pacquiao announced right after his defeat to Mayweather in 2015.
Mayweather, who retired at 50-0 following a win over UFC superstar Conor McGregor in 2017, talked about taking "that belt," most likely referring to Pacquiao's new crown.
The 41-year-old American, the richest athlete ever, also mentioned the word "payday."
When they fought in May 2015, the showdown broke all records in boxing, and made $410 million in pay-per-view sales alone. Pacquiao earned over $100 million, and Mayweather thrice more.
If and when they fight again, they can earn as much once more.
Last May, Mayweather visited the Philippines. He went mall-hopping and spent time at the beach. He did not get to meet Pacquiao, who was then in the thick of training for Lucas Matthysse.
Months before they fought in 2015, Pacquiao and Mayweather bumped into each other during an NBA game in Miami, paving the way for serious negotiations and the Fight of the Century.