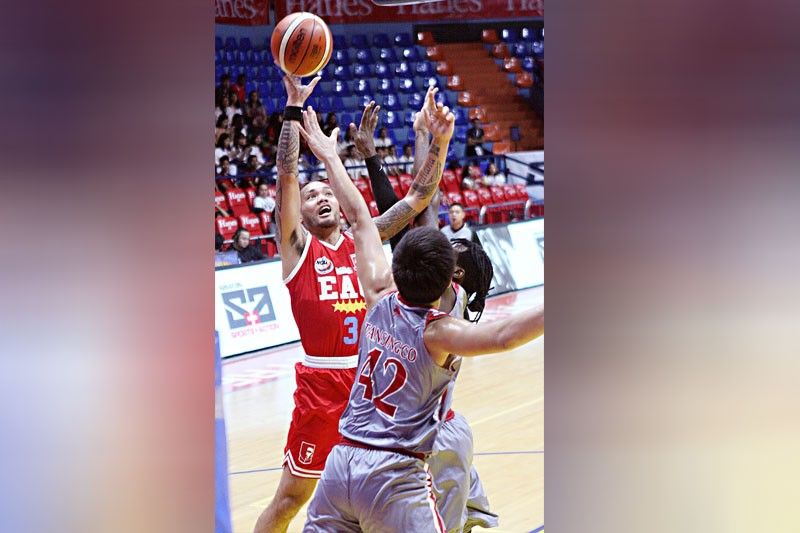 Jess Bautista of Emilio Aguinaldo College takes a shot against Ralph Tansingco and Mike Nzeusseu of Lyceum in the NCAA game at the Filoil Fying V Center in San Juan.
Joey Mendoza
Pirates shackle Generals, extend run to 12
Joey Villar
(The Philippine Star) - September 14, 2018 - 12:00am
MANILA, Philippines — Lyceum of the Philippines University sized up Emilio Aguinaldo College in the first half then used a stifling defense in the last two quarters to overwhelm the Generals, 95-75, as the Pirates stretched their unbeaten run to 12 in the NCAA men's basketball tournament at the Filoil Flying V Center in San Juan yesterday.
The NCAA postponed its basketball and badminton games today after the suspension of classes by government in anticipation of a super typhoon.
The Pirates trapping defense forced the Generals to commit a season-worst 38 turnovers that led to 38 points as the former kept their lofty perch at the helm while keeping arch rivals San Beda Lions at bay with an 11-1 mark.
"We know our strength (defense) and we just have to keep feeding on that," said LPU coach Topex Robinson. "We also know our rivals are going to zone us but we're getting better at beating it (zone) while the other teams haven't figured out to break our press."
CJ Perez and Mike Nzeusseu combined for 37 points while Jaycee Marcelino came in sick but still came through with 15 points, seven assists and four steals as the Pirates dealt the Generals their ninth defeat against two wins.
In the second game, Mapua edged Jose Rizal, 81-79, to snare its third win against eight defeats.
The Bombers fell to 2-10.
EAC kept the game close in the first half that featured 10 lead changes and four deadlocks with LPU barely leading at the turn at 41-40 on a Ralph Tansingco triple at the buzzer.
Unable to shake off the Generals, the Pirates clamped down on defense at the resumption of the contest, holding their rivals to 13 third quarter points while scoring 20 markers of their own.
It was cruise control in the fourth with the Pirates unleashing a 34-point effort to complete their 20-point victory.
"I think it's not something that we are surprised with. The first half the energy level of the other teams is still there and we know we're going to make mistakes," said Robinson. "What's important for us is how to sustain it."
Jerome Garcia had a season-high 30 points, including six triples, but it proved not enough for EAC to pull off a reversal over its streaking rival.