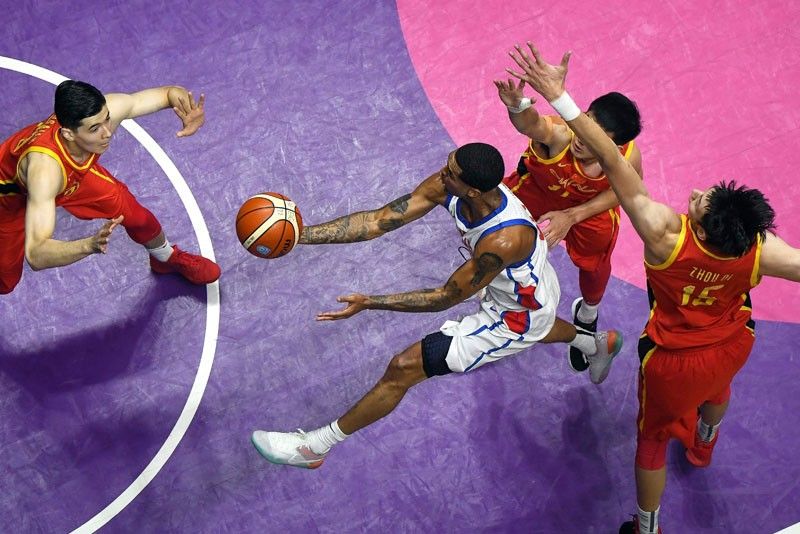 The Philippines' Jordan Clarkson (center) tries to get past China's players in their men's basketball preliminary Group D match Tuesday in Jakarta.
AFP
It's payback time, says Guiao
MANILA, Philippines — National team coach Yeng Guiao said the battlecry in the quarterfinal game against South Korea is payback for the heartaches the Philippines has suffered in previous encounters with the country's nemesis and it will not be just effort – but smart effort – to win in the Asian Games at the Gelora Bung Karno Basketball Hall in Jakarta this morning.
The Asian Games nightmares that South Korea has brought to the Philippines date back to 1986 when the Koreans won, 103-102, to 2002 when a last-second triple sealed a 69-68 squeaker and to 2014 when the archrivals recovered from 51-44 down at the half to win, 97-95. Guiao was the national coach at the 2009 FIBA Asia Cup in Tianjin where the Philippines bowed twice to South Korea, 69-56 and 82-80. Another heartbreaker was South Korea's 70-68 win over the Philippines, coached by Rajko Toroman, at the 2011 FIBA Asia Cup in Wuhan. At the FIBA Asia Cup in Beirut last year, South Korea demolished the Philippines, 118-86.
"That's the battlecry," said Guiao when asked if it was payback time. "My most important message to the boys is effort is not enough to win against Korea, it has to be smart effort. Hindi lang dapat puso, dagdagan pa natin ng isip." Guiao said the three critical factors in the Philippines' gameplan is executing its ball-screen defense, containing naturalized import Ricardo Ratliffe and sustaining aggressiveness for 40 minutes.
"If we contain Ratliffe with minimal help, we also minimize their three-point shooting because it allows us to stay home on shooters," continued Guiao. "Their offensive flow created by ball movement sets up their shooters which they initiate with ball-screens. Defending ball-screens also takes away the three-point shots."
In South Korea's three Asian Games wins so far, Ratliffe has averaged 23.3 points, 13 rebounds, 4.3 assists, shooting 62.5 percent from the field and 80 percent from the line. As a team, South Korea is hitting 43.8 percent from beyond the arc while norming 34 assists and 17.3 offensive rebounds. Shooting at least 50 percent from three-point distance are 6-4 Jeon Junbeom, 6-5 Heo Ilyoung and 6-2 Kim Sunhyung. Aside from Ratliffe, averaging in double figure points are Jeon (16.3), 6-5 Heo Ilyoung (13), 6-1 Heo Ung (12) and 6-3 Lee Junghyun (11.7).
Assistant coach Caloy Garcia said South Korea is deadly in transition and every player is capable of shooting the three. The keys to the Philippines' attack are Jordan Clarkson and Stanley Pringle drawing the defense to get the shooters open and getting the bigs their touches at the post.
Assistant coach and chief scout Ryan Gregorio said teamwork is South Korea's strength. "They don't have the height and length of China but they have great teamwork and chemistry," he said. "They've been playing together a long time and that makes them a cohesive unit with quick ball movement and perpetual man motion. They play disciplined basketball. We must have pride to stay in front of them every possession. Defense is not complete until we force a miss or get a steal and secure the ball."
All 12 players on the Korean roster saw action at the Jones Cup in Taipei this year with the team losing only to Iran, 80-69 and Taiwan Blue, 77-73. In the Iran loss, the Koreans were held to only 2-of-13 triples but Ratliffe got away with 30 points. In the Taiwan defeat, the Koreans were outrebounded, 49-29 as Ratliffe had only six points and seven rebounds in 10 minutes. From the 2017 FIBA Asia lineup, South Korean brought back 6-7 Choi Junyong, Lee Junghyun, Heo Ung, Kim Sunhyung, Jeon and 6-4 Lee Seunghyun. Only three players from the squad that lost to the Philippines, 86-79, at the 2013 FIBA Asia Cup in Manila are back.
How to contain Korea's three-point riflemen is a challenge, said Gregorio. "Three-point shooting has been their weapon for the longest time," he said. "This is their trademark. Our goal is to keep in step with them, stay in front, limit missed coverage on rotations and challenge every basket. They should not be comfortable taking their rhythm shots. We must make it difficult for them to get good looks, force them to take shots out of their comfort level and eventually kill their confidence. This can be done through effort and determination."
Gregorio said limiting Ratliffe is a goal. "Ratliffe is a workhorse," he said. "He gets majority of his points from fastbreak situations and offensive put-backs. He also has a solid back-to-the-basket game. Hard to stop but we need to limit him. Make it difficult for him to get easy points. I expect our big guys to battle him all the time."
Gregorio said the Philippines has the tools to beat South Korea, not in words but in action. "Jordan's the real deal," he said. "With jet lag behind him and more practice time with us, I expect him to play a higher level of basketball to get us to the Final Four. I am confident they will have a hard time matching up against us. Our attacking guards will have a stronger finish in traffic because Korea is a lot smaller than China. No 7-footers to shoot over. That will give our guards solid options to take high percentage baskets."
The winner of the game will advance to the semifinals, likely against Iran on Aug. 30. The loser will drop to the relegation bracket where the highest finish is fifth and the lowest is eighth.