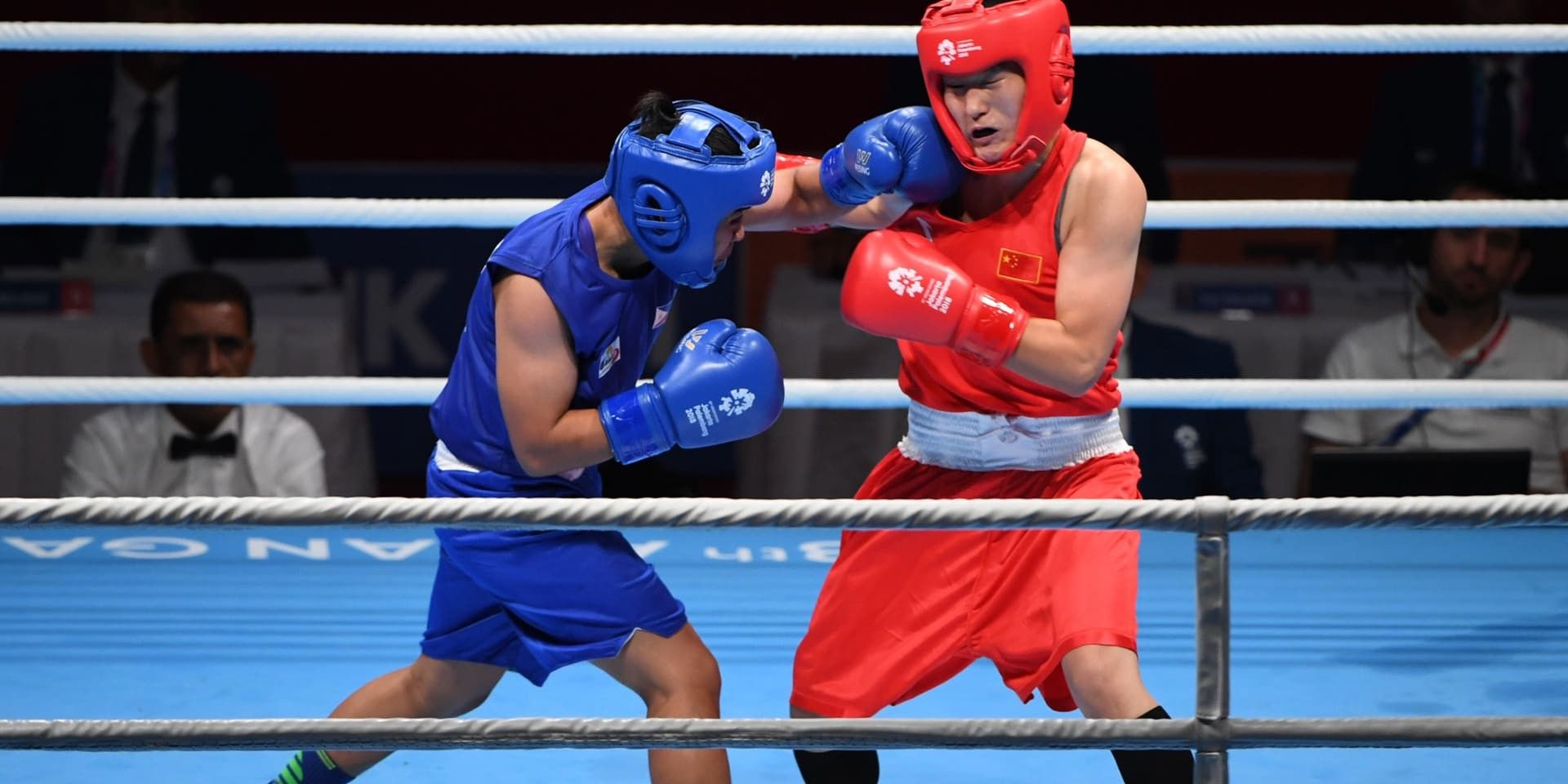 Petecio (left) during her bout against Yin Junhua of China on Friday night.
Asian Games Photo
Petecio, Phl sports officials cry foul
JAKARTA – Nesthy Petecio were shocked and shed tears of anger more than sorrow, and Filipino sports officials cried foul right at the start of the 18th Asian Games boxing competition Friday where the country's top Filipina pug fell victim to a blatant unfair judging.
Petecio, a former world championship silver medalist, was convinced she was robbed of a clear win.
Boxing secretary general Ed Picson called it a travesty while Phl chef de mission Richard Gomez said it's a case of "bad call, bad decision and bad scoring."
Petecio set out as the gold-medal favorite but moved out of the medal hunt right after her opening bout that went in favor of Chinese rival Yin Junhua to the surprise of most of the crowd at the Jakarta International Expo Hall C.
The 26-year-old Santa Cruz, Davao del Sur native connected with clear shots and emerged the better fighter in exchanges but failed to get the nod of the judges who gave the fight to the Chinese on a 3-2 split decision.
A Bulgarian judge and a Korean judge scored all rounds for China while judges from Turkmenistan and Japan saw it for Petecio. A fifth judge from France called it 28-28, but later handed the fight to the Chinese to break the deadlock.
As the game announcer hollered the decision, Petecio stared at the judges, wondering aloud if what she heard was a mistake.
"I know I am the winner. And I do believe if I were able to get past the Chinese, the gold would be mine. I didn't want get off the ring because I couldn't believe it was all over for me," said Petecio.
"I work hard and long for this," she rued.
Two Phl boxing bets climbed the ring Friday night, and both went down vanquished.
Joel Bacho reeled to a 1-4 loss against Iranian Sajjad Kazemzadeh in their 69kgs bout, leaving Team Phl with just six fighters to contend for the medals.
Mario Fernandez was the third Filipino bet to swing into action last night.
The Phl chef de mission saw for himself the daylight robbery in Petecio's fight.
"We saw the whole fight, bugbog ang China; tapos China ang panalo," said Gomez. "That's the problem with boxing, may luto talaga."
"There's really nothing much we can say. We all saw what happened. It's just so sad that at a time when boxing is fighting hard to retain its spot in the Olympics, something like this happens. It's a heartbreaking," said the boxing secretary general.
He said they couldn't do anything "because protests are not allowed."
Picson said all he could do is to request "that the judges responsible for this travesty not be assigned to officiate in the coming Philippines fights as judges or referees."