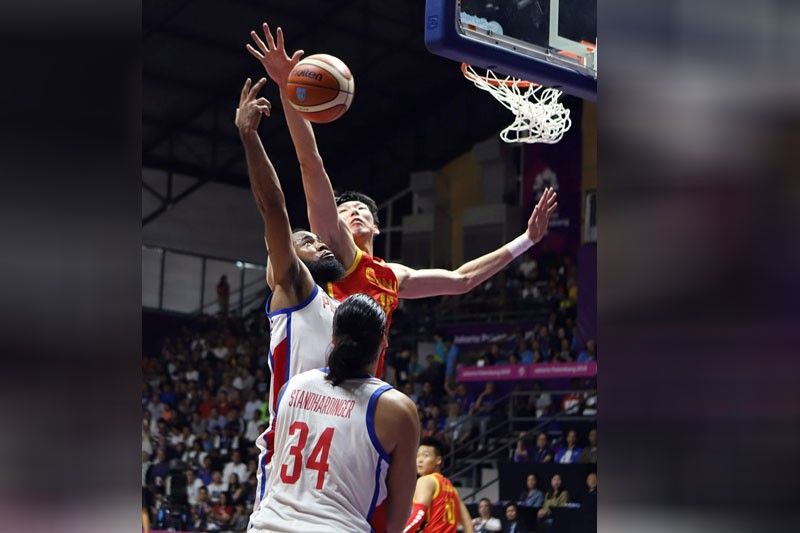 Zhou Qi of China towers over Team Phl's Stanley Pringle in a rebound play as Christian Standhardinger looks on during their clash in the 18th Asian Games Tuesday. The Chinese rallied in the clutch to snare an 82-80 victory.
Joey Mendoza
No excuses but Yeng Guiao calls out Hong Kong referee
MANILA, Philippines — Gilas head coach Yeng Guiao yesterday said it was dubious for a crew chief from Hong Kong to work the Philippines game against China in the Asian Games at the Gelora Bung Karno Basketball Hall in Jakarta and pointed to the disparity in free throws awarded as a reflection of possible partisanship.
Despite the sore point, Guiao had no excuses for Gilas' 82-80 loss and lauded the team for its effort in nearly toppling the Great Wall of China. The Philippines was up, 80-77, with 1:23 to go and after China tied it, 80-80, time down to 46 seconds, Gilas missed three chances to score up to the final buzzer. Jordan Clarkson gave up a foul to stop the clock with 13 ticks remaining and no timeout left for Gilas. Zhao Rui hit two free throws to put China on top, 82-80, then Paul Lee threw up a triple with six seconds to go. If Lee connected, the Philippines would've booked the win.
"A positive was we were able to utilize our quickness to counter their size advantage," said Guiao. "Our defense was excellent except for the referees calling too many fouls on us, resulting in the free throw disparity of 39 for them and only 15 for us. Another positive was JC finding his way within the system in the second half but too bad, he cramped. One last positive is knowing we can beat China next time we meet them."
Guiao pulled out Clarkson with 47 seconds left in the third period to rest him after he shot 16 in the quarter. Clarkson checked back in with 8:59 to go in the fourth but returned to the bench limping with 3:09 left. He returned with 1:12 remaining. Clarkson was scoreless in the fourth period but finished with 28 points, five triples, eight rebounds and four assists in 32:52 minutes.
The three referees assigned to the game were Chun Yip Yuen of Hong Kong as crew chief and Hadi Salem Azizolah of Iran and Imran Ali Baig of India as umpires. "The referee who killed us was from Hong Kong which is a territory of China," said Guiao. "That's really dubious to me." China hit 23-of-39 foul shots compared to Gilas' 11-of-15. The difference of 12 points in made free throws was decisive. China missed 16 free throws so the margin would've been bigger if the Chinese were more accurate from the line. China was assessed 16 fouls and the Philippines, 25.
Guiao said there were several things Gilas could've done better in the contest. "Taking better care of the ball," he said. "Less turnovers would've won us the game. Taking away the three-point shot of Zhou Qi, the 7-2 center (he shot 4-of-7 from beyond the arc). Boxing them out earlier to neutralize their size in rebounding."
Assistant coach Caloy Garcia said Gilas never gave up from start to finish. "We love the effort that our players gave," he said. "Nothing serious about JC limping, just cramps. Our rules were simple. We just wanted to keep the game close. Then, in the second half, we did a good job on Zhou. Christian (Standhardinger) liked the challenge and never backed down (from attacking Zhou) despite him getting blocked. Defense was really good in the second half when we started pushing their bigs for them not to get to their spot. We also did a good job on the boards."
Garcia said the five days of rest before the quarterfinals will give the team more time to jell with Clarkson. "I think we just have to develop more chemistry with JC and be more consistent on defense," he said. "We didn't play Chris (Tiu) because of the matchups. Abudushalamu (Abudurexiti) hurt us in the fourth period (with eight points). Puro pulot ni Abudu and we missed our rotations. We actually had in mind to use Gabe (Norwood) at the four spot (Abudu's position) to quicken the pace but our bigs played well so we just stuck to that. Maybe, against South Korea, it will be different."
Gilas took the day off yesterday and had lunch with the Filipino community in Jakarta. Then, it's back to the gym to practice for the next game against South Korea, the Group A topnotcher, on Aug. 27.