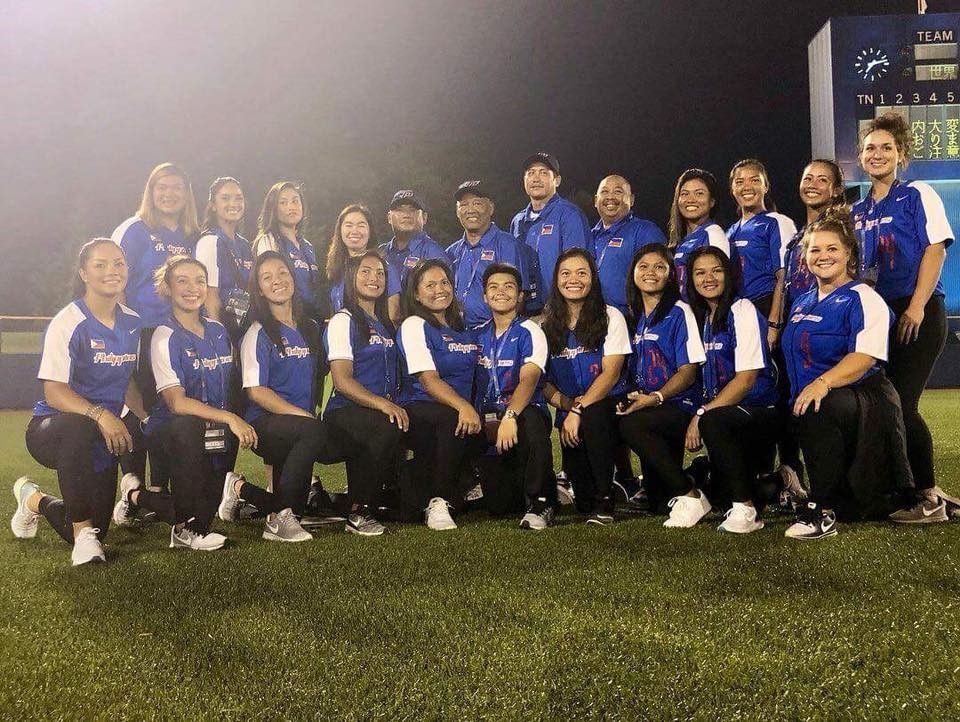 The Blu Girls during the recently-concluded 2018 Women's Softball World Championship opening ceremony in Chiba, Japan.
ASA Philippines Photo
Blu Girls seek automatic Asiad podium finish
JAKARTA – The Philippine Blu Girls seek a sweep of their double-header Wednesday for a guaranteed podium finish in the 18th Asian Games softball competition at the GBK softball field here.
Undefeated through their first three games, the Blu Girls try to stamp their class against the lowly Indons at 12:30 p.m. then go for an upset against Chinese Taipei at 8 p.m. for a sure place in the Top Two.
"The worst scenario then would be a bronze medal," said coach Randy Dizer in their bid for a spot in the Top Two in the Page playoff system.
In that format, No. 1 and No. 2 clash for an outright shot at the gold medal while No. 3 and No. 4 fight it out in the other semifinal match. The third match is a duel between the loser in the first match and the winner in the second match to determine the second finalist. The loser in the third match settles for the bronze.
The Blu Girls boosted their playoff bid with their 5-3 decision over Korea and a thrilling 1-0 win over China Monday.
Dizer and his team will clash with top seed Japan Tuesday night, with the winner to gain outright semis entry.
Garnet Blando singled home Hailey Decker in the fifth frame in their key win over the Chinese late Monday night.
The Blu Girls have been an amazing bunch here with the lineup being primed up to qualify for the return of softball in the 2020 Olympics.
From their strong showings in the 2017 World Cup of Softball in Oklahoma and in the Canada Cup Softball Championship, the Blu Girls have remained in top form as seen in their opening-game rout of Hong Kong and in their sweep of their Monday double-header versus Korea and China.
"It's big for our campaign. We prepared for our game against Korea because as I told the kids if we win against Korea, we would have one step into the playoffs," said Dizer. "After we won against Korea, I told them there's no pressure. That first game had pressure because that win is very important."
With the Blu Girls just ahead by one, 4-3, right fielder Reese Guevarra scored the insurance point for the Philippines in the upper frame of the seventh inning as she darted home from the first base on a hit to the centerfield by teammate Chelsea Suitos.
With Sierra Lange pitching for the Philippines, the Korean batters were struck out in the final frame.
The Blu Girls have long been the reigning softball champs in Southeast Asia but have yet to win a medal in the Asian level. They were mere sixth placers in 1998 and 2002, fifth in 2010 and fourth in 2014.