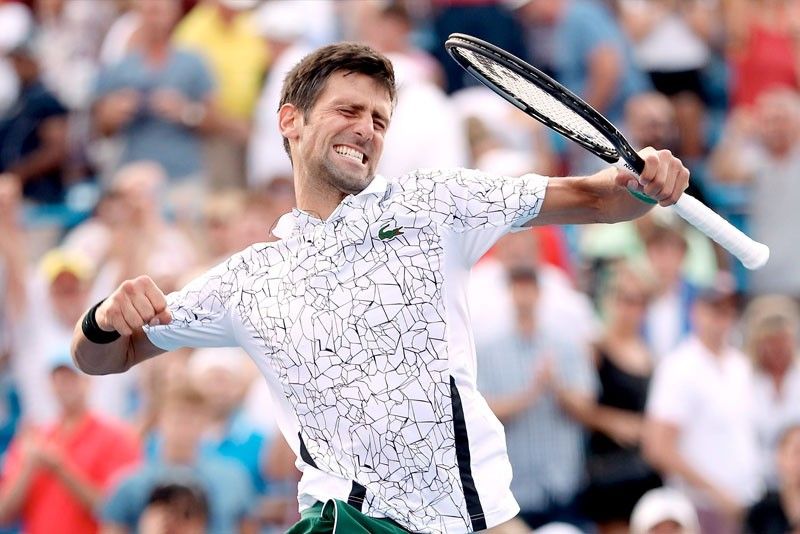 Novak Djokovic of Serbia gets a high after his win over Roger Federer of Switzerland during the men's final of the Western & Southern Open at Lindner Family Tennis Center in Mason, Ohio.
AFP
Novak Djokovic finally leaves Cincinnati with a crown
(Associated Press) - August 21, 2018 - 12:00am
MASON, Ohio – Novak Djokovic gave his racket to a fan and tossed his sweatbands into the stands. No need for mementos from this victory. The long-awaited Rookwood pottery trophy would be plenty.
Djokovic finally mastered the one tournament that's eluded him, beating nemesis Roger Federer, 6-4, 6-4, on Sunday for his first Western & Southern Open championship.
He got the better of a nostalgic rematch – they hadn't played in two years because of injuries – and broke through in a tournament that Federer has won seven times, never losing a title match.
"Thank you for letting me win once in Cincinnati," he told Federer as they stood on court for the trophy presentation.
After reaching the final five times and losing every time – three to Federer – Djokovic jumped and punched the air in celebration of his breakthrough. He's the first to claim all nine ATP Masters 1000 events since the series started in 1990, something that had become his quest after so many close calls.
"That's what the headline should be about – this is such an amazing accomplishment," Federer said. "He's the first to do it. I think it's very difficult to win Masters 1000s. These performances don't come easy."
Djokovic leads their all-time series 24-22, doing better in the biggest matches. He's 3-1 against Federer in Grand Slam finals and 12-6 overall in championship matches, including wins at Wimbledon and the US Open in 2015.
Djokovic completed a long comeback from elbow problems by winning his fourth Wimbledon title last month, then set out to get his hard-court game in order for the US Open. He got better as the rainy week went on in Cincinnati, playing his best at the end.
"This seems to be a bit unreal, to be honest, to be back at this level," he said.