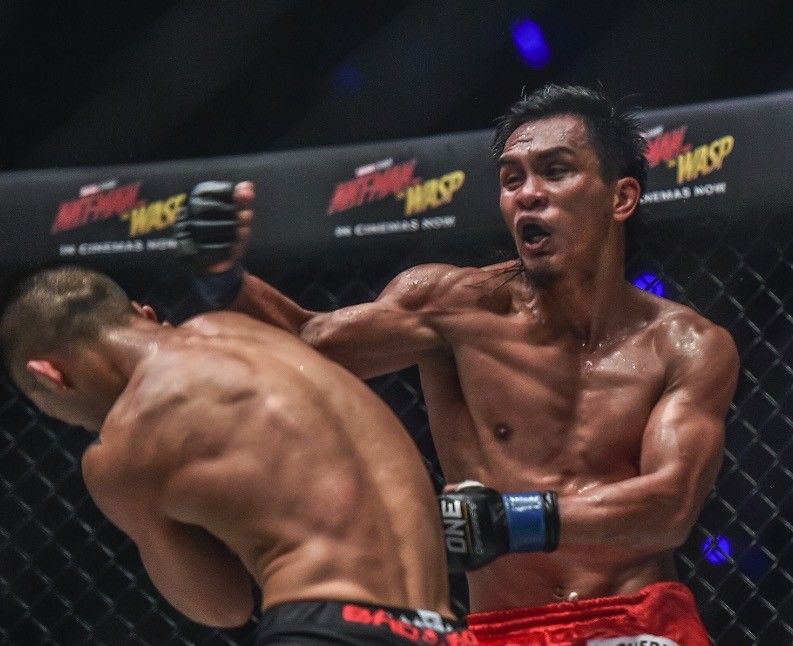 Kevin Belingon (right) of Baguio City's famed Team Lakay uncorks a spinning back fist against two-division champion Martin Nguyen during the 'Reign of Kings' showpiece last July. The former went on to win the interim bantamweight title and the another crack at titleholder Bibiano Fernandes.
ONE Championship File Photo
Belingon itching for Bibiano rematch: 'There's no escaping me'
(Philstar.com) - August 15, 2018 - 2:34pm
MANILA, Philippines — Six years since his ONE Championship debut, Team Lakay's Kevin Belingon is finally a world champion in the mixed martial arts promotion.
At the recent "Reign of Kings" card, in front of a partisan pro-Philippines crowd at the Mall of Asia Arena, Belingon defeated reigning featherweight and lightweight champ Martin Nguyen to capture the Interim bantamweight title.
For Belingon, it was a childhood dream come true.
"I can't explain this feeling. I'm the happiest athlete tonight," Belingon said during the post-match interview. "Thank you to all the people who came out to support me, and of course to ONE Championship, my team, my coaches and trainers, and my teammates,"
With the win, Belingon becomes the fifth Filipino to capture ONE World Championship gold, as he joins current kingpins Brandon Vera of the heavyweight division, as well as Team Lakay stablemates Geje Eustaquio of the flyweight division and former titleholders Eduard Folayang of the lightweight class, and Honorio Banario of the featherweight class.
And while making history as a world champion is indeed a prestigious feat, even more important for Belingon is that he's finally secured his spot as the next person to challenge reigning bantamweight champion, Bibiano Fernandes.
Fernandes is currently recovering from an injury, and when the most dominant champion in ONE Championship history finally returns, Belingon will be right there, waiting for his rematch.
"I respect [Bibiano] as a champion, but we are in the same weight class, and I am the top contender, so there is no escape in facing me. I hope you recover fast, and that we can make the fight this year." Belingon said.
Belingon and Fernandes first shared the cage back in January 2016 at Dynasty of Champions, in Changsha, China, with Fernandes retaining the title via a first-round submission win.
The loss did nothing but fuel Belingon's world championship dreams even more, and the road back to the championship picture was a long one for the 30-year old, who had to run through a gauntlet of former world title contenders and a two-division champion in a just under two years.
Currently riding six straight victories dating back to October of 2016, Belingon has taken out the likes of Toni Tauru, Reece 'Lightning' McLaren, Andrew Leone, and Nguyen, pretty much a who's-who in promotion's bantamweight division.
"I have faced many tough opponents leading up to this interim title, and I believe I have earned my spot to face Bibiano again," Belingon said in a previous interview.
Now, the Baguio City native has his sights firmly set on Fernandes and the ONE Bantamweight World Championship. Nothing else, no one else.
"I am looking forward to our rematch. No more detours. Bibiano should be next, and I fully expect to be facing him soon."
Surely, 'soon' can't fast enough for Belingon, but the reality is that he'll have to wait for Fernandes to be cleared to compete.
In the meantime however, the newly-crowned interim champion could use some time off as well, to heal up before getting back to business.
He is, after all, coming off a tough five-round main event.
"Right now, I am just focused on resting and healing my body. I am pretty banged up. My ankle and shin are bruised, and they need time to recover," Belingon said.
"Once everything is good to go, then I will be back in training. But for now, I am going to enjoy the rest. It still has not sunk in that I am a World Champion." He continued.
While indeed, the record books will show that Belingon has already held world championship gold, the Filipino star knows in himself that there's still one more bit of work to be done, and that's to avenge his loss to Fernandes and become the undisputed ONE Bantamweight World Champion.
"Until I beat Bibiano, [however], I will always feel like there is unfinished business to take care of."